Bayside's Peninsula Park Opens in Rowlett
Bayside's Peninsula Park Opens in Rowlett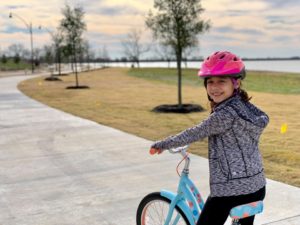 The grand Opening of Peninsula Park took place on Saturday, May 11th. It was a rainy Saturday morning and the event was not easy to locate, as the address given took us to the Bayside Boat Club on the South side of I30, where we were told that the event was actually taking place on the north side of I30. The folks at the boat club were not very enthusiastic about the park or the event, so our expectations were not high.
We crossed the intersection on to Dalrock Rd., and turned left into the Bayside Development. We were amazed to be surrounded by a brand new community we didn't know existed. We discovered an apartment complex, single family dwellings facing the lake, and finally Peninsula Park. This beautiful green space on the lake boasts wide paved trails for walking, jogging, skating or cycling. There are benches and a few picnic tables in place, among newly planted trees and sod. There's a special entrance to a dog park and a jetty leading out onto the water. Which has not yet been fully paved.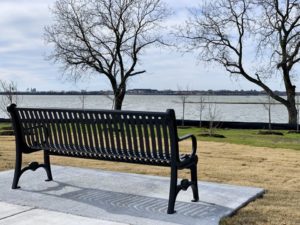 While the Bayside Development on the south side of I30 looks abandoned, with all sorts of rumors swirling, including a lawsuit and reversal of the plan for a crystal lagoon and luxury resort.  While that side of the project has been held up, the north side has has emerged and is mighty impressive. We were told that the Grand Opening ceremony had taken place, despite the rain. Though the formalities were missed, the park spoke for itself. Admittedly, we did not know the Towers, the Mansions and other elements of this community had been in the plans.  This awesome Bayside North discovery was an extremely pleasant surprise to the GRM.