DART is Asking North Texas Young Artists to Share Their Heroes
DART is Asking North Texas Young Artists to Share Their Heroes
The annual Dallas Area Rapid Transit (DART) Student Art Contest has begun accepting individual entries from all North Texas students through Tuesday, March 23, 2021. The theme of this year's contest is "Everyday Heroes Ride DART."
Heroes come in many forms and this year's art contest gives young artists the chance to salute the hometown heroes that have kept our community going during the pandemic – everyday people that have made a positive impact in the lives of others these past few months.

Kindergarten through 12th grade students throughout North Texas will compete for the opportunity to have their artwork featured on DART rail stations, buses and inside trains.

Winner's artwork will also be displayed at the Dallas Museum of Art, Love Field Airport, and on DART's website, DART.org. Prizes will be awarded to first place winners and runners-up in different grade-level categories.

The 2021 DART Student Art Contest thanks our community partners the Dallas Museum of Art, Dallas Contemporary and Half Price Books, as well as our media partners Al Día, Dallas Morning News, DFW Child, DFW Kids Directory, Local Profile, NBC 5 and Telemundo 39.

For additional information, as well as complete rules, prize information and additional entry forms, visit DART.org/artcontest, or contact TransitEducation@dart.org or call (214) 749-3494.
#DARTStudentArt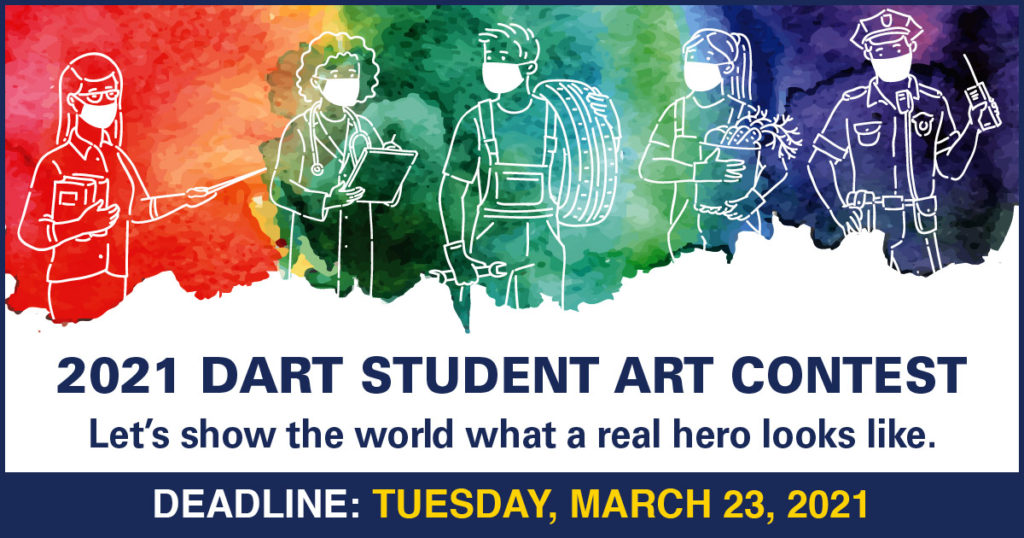 Remember These Seven 2021 DART Student Art Contest Requirements:
The 2021 DART Student Art Contest is open to students in kindergarten through 12th grade. Here are seven entry requirements to remember:
1. Each poster must visually illustrate the theme "Everyday Heroes Ride DART."
2. Limit one entry per student. Designs must be original work created by the student. No group entries allowed.
3. Students may use multiple colors or black and white. Entries must measure 11″ high x 17″ wide, and the design should be laid out horizontally. Mailed entries should be submitted on heavy paper such as poster, tag or illustration board.
4. Media may include crayons, paint, markers, colored pencils and digital art.
5. Contestants should include the DART logo in any drawings of buses or trains.
6. Students in all grade levels now have the option of submitting their entries online. All digital entries must be submitted by 11:59 p.m. on Tuesday, March 23, 2021 at DART.org/ArtContest.
7. All mailed entries must include a completed entry form (click here to download the entry form in PDF format). Affix the completed form to the back of the artwork. Entries must arrive no later than 5 p.m. on Tuesday, March 23, 2021 and should be directed to:
DART's Transit Education Program
2021 Student Art Contest
Dallas Area Rapid Transit
1401 Pacific Avenue
P.O. Box 660163
Dallas, TX 75266-0163
Learn more about the 2021 DART Student Art Contest at DART.org/contest.
#DARTstudentart