Downtown Garland Listed on National Register of Historic Places
Downtown Garland Listed on National Register of Historic Places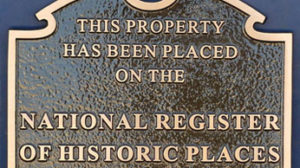 Garland's historic downtown commercial district is now included on the National Park Service's National Register of Historic Places. The U.S. National Register represents the nation's official list of properties deemed worthy of preservation. The commercial district is the second historic district from Garland to be listed on the National Register. The Travis College Hill neighborhood, also in the downtown area, was listed in February of this year.
Fifty two commercial and public buildings are included in the historic district, with the oldest buildings dating back to 1897. New development in the area has spurred rediscovery of downtown, including the history that makes it unique.
---
---
"It's wonderful how Garland's rich history is giving us a sense of place for today," noted District 2 Councilwoman Anita Goebel. "Crowds of all ages are attracted to the authentic experience that local restaurants and businesses are bringing to downtown. The historic backdrop adds to the feeling that Downtown Garland is special; it's not just another cookie-cutter development with chain restaurants you can find everywhere."
Garland Mayor Douglas Athas said, "The National Register reinforces that Downtown Garland is a place to be proud of, and we're delighted that the rest of the nation will have the opportunity to learn about it, as well."
The City is planning a celebration event in October to unveil the official historic markers and to invite even more people to experience the unique entertainment opportunities available to Downtown Garland.
---
---