DOWNTOWN GARLAND OKTOBERFEST
DOWNTOWN GARLAND OKTOBERFEST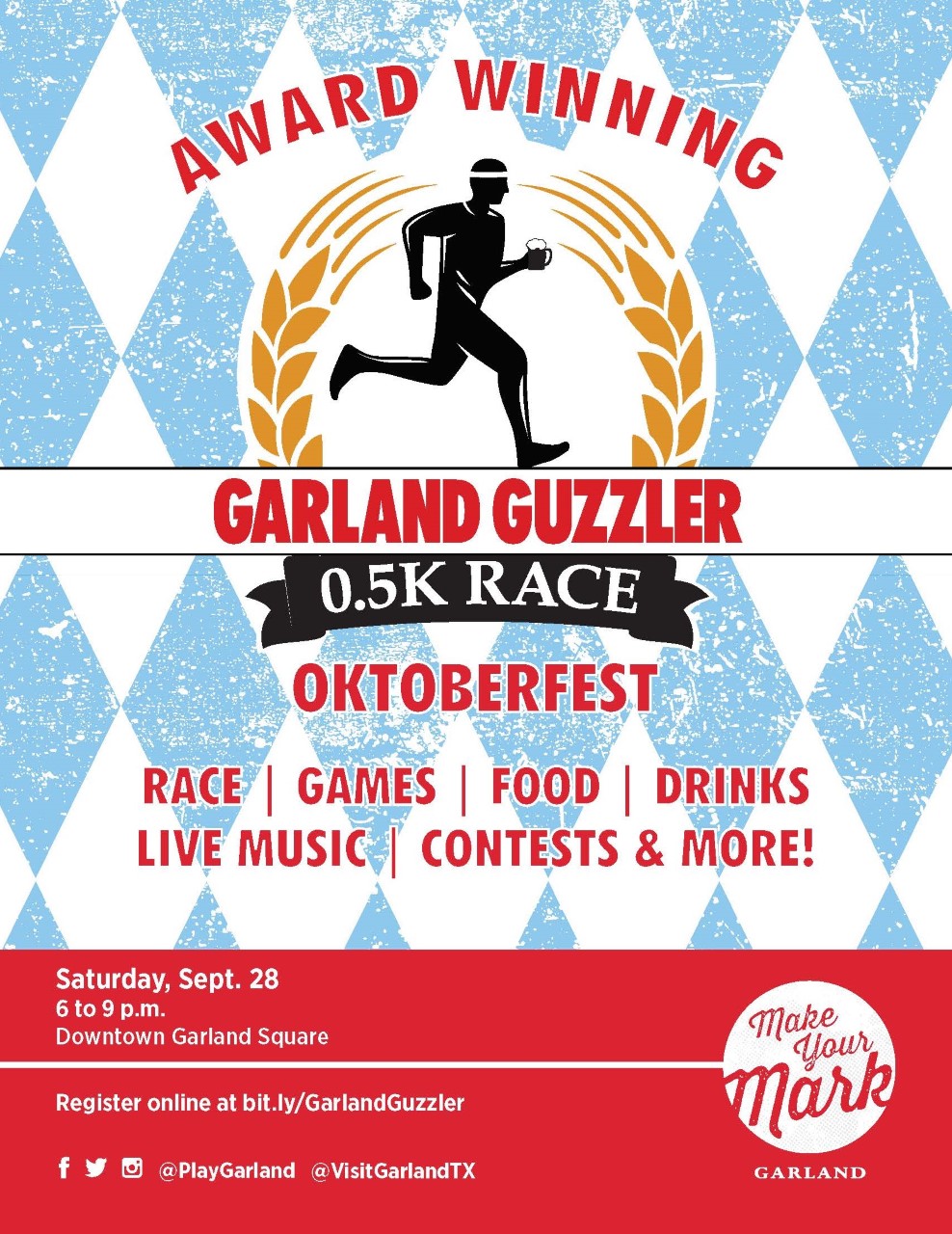 SATURDAY SEPT. 28, 6-9PM
Ach du lieber! Celebrating Oktoberfest with German flare!!!
There will be vendors selling waffles, kettlecorn, bratwurst,pretzels, chicken tenders, french fries(German style) etc…
A race around the square for the old guzzlers, followed by a lap by little guzzlers in Lederhosen.
Games for the kids include: axe throwing(inflatable), a caricature, corn hole, and giant jenga.
Live music includes an OOM-PAH-PAH band; Matthew Banks Ensemble(polka), Escape(Journey tribute). 
TIME TABLE FOR EVENT:
4:00 – 6:00pm – Packet Pickup
6:00pm – Event Starts
6:00 – 6:30pm – Intro/Matthew Banks Ensemble6:30 – 6:45pm – .5K
6:50 – 7:00pm – Stein Carrying *
7:05 – 7:15pm – Keg Race *
7:20 – 7:30pm – Stein holding Competition *7:30 – 9:00pm – Escape Performs
9:00pm – Event ends
* = Competition Stage Area
SIGN UP TO PARTICIPATE IN THE GARLAND GUZZLER 0.5K RACE
https://runsignup.com/Race/TX/Garland/GarlandGuzzler 
***Use code "Guzzler19" for a discount on your registration.***
This is a FREE event with no admission charges and FREE parking. There is a fee to participate in the Garland Guzzler. You can sign up early by following the above link. This family event begins at 6pm but plan to arrive in Downtown Garland early, for convenient on street parking. 
The Square in Downtown Garland borders Main St., 6th St., State St., and 5th St. 
For GPS use:
520 W State St, Garland, TX 75040
For more information on this event: (972)205-3896