Garland ISD news: Aug. 17-24‏
Garland ISD news: Aug. 17-24‏
GISD sees high-energy 2015-16 welcome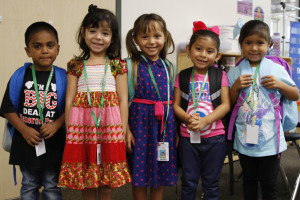 High-fives, hugs and smiles were buzzing across Garland ISD as 71 campuses welcomed students to the first day of school Aug. 24. 
"With innovative teacher trainings, exciting staff development activities and an inspiring Convocation, we were more than ready to greet students and kick off a new year," said Superintendent Bob Morrison. "For weeks, our team of approximately 7,500 has been working diligently to make sure students have a great first day."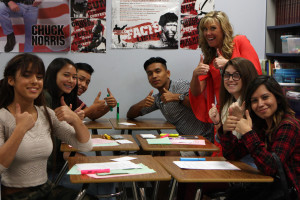 Parents, grandparents and siblings also helped make "First Day 2015" a memorable event, accompanying their students to classrooms, capturing moments on camera and meeting new teachers. Dorsey Elementary School Principal Debbie Chisholm took her new staff on tour, stopping by every classroom to ensure the Wildcat community saw two new faces—Assistant Principal Denise Campbell and Counselor Kristin Holder.
New staff members were not the only introductions taking place in GISD. Several elementaries saw new art classrooms, while Weaver Elementary School launched its new Mandarin Chinese Language & Leadership magnet.
And after a busy, fun-filled first day, the GISD family is already looking forward to day two.
"Great first day, Hawks," states Hudson Middle School's Twitter page. "We can tell this will be a great year."
---
GISD educators invited to Perot Museum-based STEM training
Enhancing their science, technology, engineering and math (STEM) instruction, two Garland ISD teachers were selected to attend the Perot Museum of Nature and Science's Kosmos Energy STEM Teacher Institute this summer, an opportunity approximately 130 local teachers received. O'Banion Middle School's Nikki Bibb and Lakeview Centennial High School's Chris Cuadra represented GISD during the enlightening professional development experience.
A $450,000 Kosmos Energy grant enabled the Perot to provide the innovative training, which aims to equip K-12 educators with the tools and skills needed to ignite student enthusiasm for science. Area teachers had to submit an application to be considered for the exciting opportunity.
"I applied to the program because I am interested and fascinated with STEM and how it encompasses every part of our lives," Bibb explained. "The program is in its beginning steps right now, and in my opinion, is the start of something amazing. We had a four-day training where we met every day and took Texas Essential Knowledge and Skills (TEKS) standards to create 5E lessons that held all four STEM categories in them."
In addition to their summer training, educators accepted into the program will continue their professional development throughout 2015-16.
"The Kosmos Energy STEM Teacher Institute is going to provide teachers with access to wonderful instruction, year-round mentoring and resources that will boost their skills and help them change students' perceptions of STEM subjects," stated Colleen Walker, Eugene McDermott CEO of the Perot, in a press release. "This extraordinary gift from Kosmos Energy will have long-lasting effects that will change the lives—and future careers—of both teachers and young people."
Bibb is already looking forward to those changes occurring in her classroom.
"I am excited to be implementing STEM into my classes this year," she said. "I think my students' critical thinking abilities will greatly improve. I also believe my colleagues will see the success my students are showing and it will spread like wildfire."
---
GISD staff kicks off 2015-16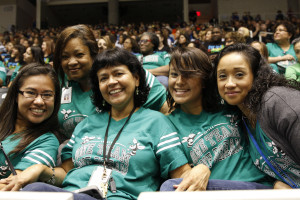 Approximately 7,500 Garland ISD employees celebrated the start of 2015-16 with cheers, pride and spirit gear during the district's Convocation event Aug. 20 at the Curtis Culwell Center.
Garland High School sophomore Grace Omer emceed the lively affair. Board President Larry Glick also offered 

words of wisdom

 while Superintendent Bob Morrison presented a 

video

detailing the touching story of GISD employee Rodney Mills' journey to literacy. Mills then introduced keynote speaker Kim Bearden, co-founder of the celebrated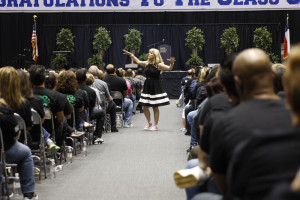 Ron Clark Academy and Disney Teacher of the Year. She offered words of encouragement that excited the GISD team.
"[Kim Bearden's] story is incredible and inspiring," said Associate Superintendent of Curriculum, Instruction and Assessment Jovan Wells. "We thank her for sharing her experiences with GISD."
Inspiration, motivation and shout outs filled the ceremony, even with Texas' very own Governor Greg Abbott offering the district a 

special message

.
To see more Convocation action on social media, search #gisdconvocation on Twitter. 
---
Skyward Family Access offers online, early Signature Packet
Want a head start on filling out important back-to-school forms? Garland ISD traditionally sends home its Acceptable Use Agreement, Health Information Form and others the first week. This year, parents and guardians with Skyward Family Access accounts do not have to wait. They can view Signature Packet documents and complete them online through Sept. 25. Simply log in to

Family Access

 via a web browser and click the Signature Packet link in the upper left-hand corner to begin the process. Online Signature Packets are not available in the Skyward Mobile App.
Student schedules will also be available in Family Access beginning Aug. 20. Parents and guardians who fill out Signature Packet documents online may still receive printed copies, but do not need to return them to their child's school.
---
Montessori coming to Garland ISD in 2016-17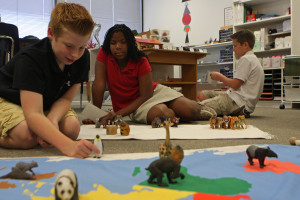 The area's newest Montessori is just around the corner. Garland ISD strives to provide all students with a well-rounded education that includes school choice. Currently, the district boasts 10 specialized magnets at 16 campuses. Montessori provides families with another option to customize their child's learning. Additionally, the locations of Herfurth and Luna elementary schools extend GISD's programs into the Rowlett and Sachse areas.
Montessori will debut in 2016-17 with six primary classes at each campus, consisting of three and four-year-olds, as well as kindergartners. Any interested student can elect to apply. Since three-year-olds are not traditionally serviced by GISD schools, the district will allow employees and community members to enroll their children for $475 a month. At four years old, those who qualify for prekindergarten will be offered a discounted rate, and others can still enroll at $475.
"We are excited to be able to offer these new opportunities—full-day prekindergarten, three-year-old enrollment and an education that traditionally costs more than $1,000 a month," said Associate Superintendent for Curriculum, Instruction & Assessment Jovan Wells. "We want to ensure all our students succeed academically, and magnet programs like Montessori allow us to accommodate different learning styles."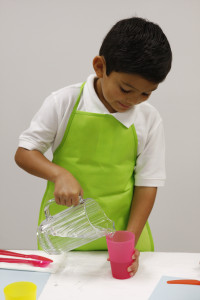 Montessori offers individualized, integrated instruction. The classroom environment contains multisensory materials rather than textbooks, and children move around the room at their own pace, studying art, geography, history, language, math, music, science, etc., at the same time. In Montessori, education is an exciting process of discovery, leading to concentration, motivation, self-discipline and a love of learning. It also provides practical life experiences, such as cooking and gardening.
Montessori classes group grade levels together, forming communities in which older children spontaneously share their knowledge with younger peers. In addition to the primary level, lower elementary includes first-third grades and upper elementary fourth-fifth.
Herfurth and Luna will stagger the rollout of classes throughout 2020, adding new levels and grades each year. For more information, visit

www.garlandisd.net/montessori

. For questions, please email 

montessori@garlandisd.net

 or call 972-475-7994 (Herfurth), 972-675-3040 (Luna).
Considering Montessori? Choose GISD.
---
GISD's tech-focused DLU enlightens elementary students
Ninety students from Beaver and Watson Technology Centers for Math and Science enhanced their 21st-century skills during the district's Digital Leadership University (DLU) July 28-30 at North Garland High School. The third-annual event encouraged students from all grade levels to practice innovative programs and techniques. 
"When we started this program, we wanted students to be well-versed in all the good things technology could do in the classroom," said GISD Magnet Facilitator Stacey Payton. "We took two students from every classroom so they could help teachers with projects throughout the year. Students attended five teacher-facilitated sessions lasting two hours each. Those sessions included everything from coding to digital citizenship training to gaming."
Payton and her team have worked to add new courses to DLU's itinerary each year. With the help of Sachse High School alumnus and current University of Texas at Dallas (UTD) biomedical engineer major Shelbi Parker, Payton was able to incorporate the Polycraft World session at DLU this summer. The groundbreaking course combined chemistry, 3-D printing and UTD's version of the build-a-world video game, Minecraft.
"We taught kids about material science and how to make different things with a 3-D printer," said UTD student Allie Dyson. "We taught them about an extruder, which takes plastic and molds it into a material, then set them to play our Minecraft mod, PolyCraft, and practice industrial applications. The nice thing about this program is that it opens kids' eyes to how the world is built around them."
Beaver MST fifth-grade teacher Mary Katherine Marston also delights in seeing students discover real-life concepts through technology. The two-year DLU instructor believes the mini summer camp not only helped students enjoy the thrill of digital exploration, but teachers, as well.
"I really love teaching at DLU because you get to do more of what you love doing in the classroom with technology and projects that really expand the kids' knowledge," she said. "Sometimes in the classroom, you are so focused on so many other things that the fun aspect of technology is not celebrated as much."
After three days of interactive fun, students were able to share their newfound knowledge during DLU's showcase—which saw more than 80 enthused parents and guardians.
"[DLU] was excellent. This camp was a great way for young kids to explore and understand more of the digital world," said Cheryl Moore, grandmother of Watson MST first-grader Makenzie Mathis. "I enjoyed watching the experience."
"The program was genius," added Yuleydiana Marin, mother of Beaver MST first-grader Rubi. "But I would love it if the kids had more than three days to learn more about technology, considering the fast rate at which it advances."
Payton is already on the case. Next year, she plans to open DLU to GISD students across the district and expand it to multiple weeks.