Garland Symphony Orchestra
Garland Symphony Orchestra
The Garland Symphony Orchestra celebrates its 2017-2018 Season, "Vienna, City of Music!" at the Granville Arts Center, Brownlee Auditorium. The season's second concert is on November 17, 2017, and all performances are at 8:00PM.
Garland, TX; (October 30, 2017) Garland Symphony Orchestra continues its 2017-2018 season "Vienna, City of Music!!" on November 17, 2017 at 8:00PM at the Granville Arts Center, Brownlee Auditorium, Garland, TX.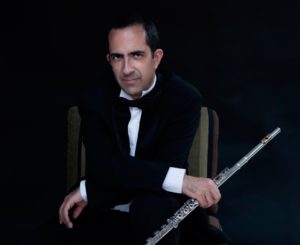 No other city in the world can boast a musical history as illustrious as Vienna's.  In a single afternoon, you can visit Haydn's house, Beethoven's apartment, and the Cathedral where Schubert sang as a boy.  Or, for less than the price of a good bottle of Gruner Veltliner, you can immerse yourself in great Viennese music with a subscription to the Garland Symphony Orchestra's 2017-18 Season:  "Vienna, City of Music".
The concert will feature Joaquín Melo, flutist, performing Mozart's Flute Concerto No.1 in G Major.  Joaquín was born in Bogota (Colombia), where he began his flute studies.  In 1989 he traveled to Vienna (Austria) where he studied Flute and Pedagogy at the University of Music in Vienna, graduating in 1994. He continued his postgraduate studies at the Academy of Music and Theater in Zürich (Switzerland) with the master Philippe Racine. He graduated in 2000 with a diploma awarded (Honorable Mention).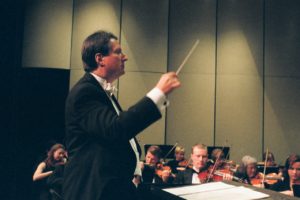 He has been a soloist with the Bogota Philharmonic Orchestra, the Colombia Symphony Orchestra and the Yucatán Symphony Orchestra.  He has also been invited to perform at the National University Festival of Transverse Flute in Mexico City and in the Festivals organized by the National Association of Flautists of Colombia held in the city of Bogotá.  He has had extensive chamber music and orchestral music that has led him to appear in different concert halls in Colombia, Austria, Hungary, Germany Japan, Peru and Mexico.
From 1990 until 2001 he was a Flute Master at the Bruck an der Leitha Conservatory in Austria.  He has taught master classes at the National University of Colombia, the Conservatory of Roses in the city of Morelia, and in 2011 was invited by Juan Felipe Molano to perform with the Batuta Youth Orchestra of Bogota in preparation for his tour in Europe.
He is a member of the Contemporary Music Ensemble SequenzaSur, with which he has successfully participated in festivals such as "Festival Cervantino", "Gate Festival of the Americas", "International Music Forum New Manuel Enríquez" and "International Festival of Music of Morelia".
He is currently a Flute teacher at the José Jacinto Cuevas Music Center at the Yucatan Institute of Culture and at the Yucatan Higher Arts School. In addition, since 2002, he has held the position of Principal Flute in the Yucatan Symphony Orchestra.
The GSO will also be performing Haydn's Overture to Il Ritomo di Tobia, Beethoven's Symphony No. 2, and Gluck's "Dance of the Blessed Spirits" from Orfeo e Eurydice.
Garland Symphony Orchestra credits its Music Director, Robert Carter Austin, for its continued outstanding and diverse orchestral programming. Maestro Austin's background encompasses over 30 years of professional music experience and includes degrees from MIT, Cambridge University, and Stanford University. Maestro Austin's musical experience includes conducting performances in many countries including: Korea, Ukraine, Canada, Italy, Spain, China, France, Germany, Mexico,
Bulgaria, Ecuador, Colombia, Philippines, Guatemala, Dominican Republic and the United States.
Season tickets as low as $61!  Single tickets are priced at $17.50, $27.50, and $37.50.  All are available by telephone (972.926.0611), fax (972.926.0811), or email (
info@garlandsymphony.org
).  Group discounts are available; please call the Garland Symphony Orchestra office for more information (972.926.0611).
All concerts begin at 8:00PM at the Granville Arts Center, Brownlee Auditorium.
---