Garland Updates
Garland to Sachse Bridge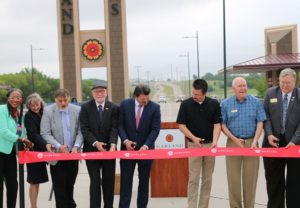 On June 27, 2019 there was a ribbon cutting ceremony to officially open the new Pleasant Valley Road Bridge. According to Mayor Scott LeMay, this marked the completion of a 10 year project with a cost of $25 million. The cost to the City of Garland was 10 percent, or $2.5 million. 
The bridge is 1,500 feet long with 130 foot high City of Garland monuments on both ends. It runs above Rowlett Creek and its surrounding floodplain, where Pleasant Valley Road connects with Miles Road and the City of Sachse. The bridge marks the entryway to Garland, with bike and hike trails on both sides and a trailhead parking lot adjacent to the bridge.
The 130 foot monuments bear the Garland Firewheel logo, and the ornamental ironwork on the rails create an impressive doorstep into the City of Garland. It's also lighted at night, making equally as attractive during evening hours.