Guns & Hoses Buys New Rescue Boat for Fire Department
Guns & Hoses Buys New Rescue Boat for Fire Department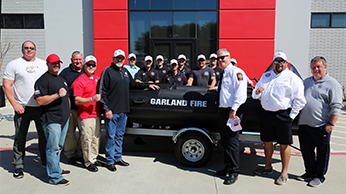 The Garland Fire Department received its first powered rescue boat, along with six dry suits, courtesy of the Guns & Hoses Foundation of North Texas.
The powered boat will allow Garland firefighters to handle a water rescue with fewer personnel. One driver and another in the boat to balance and rescue will now suffice, as opposed to four people to paddle. Firefighters also will have the ability for upstream rescues and large area searches of the many areas in Garland that flood.
"With the acquisition of this new boat from the Guns & Hoses Foundation, our swift water team members will be better equipped to execute search and rescue operations in areas where we were limited before," said Garland Fire Chief Mark Lee. "When the creeks overflowed, we were limited in our operations due to the absence of a boat capable of operating in moving water."
Firefighters at Station 8 had researched what it would take to acquire a powered boat for some time. Such a purchase was always cost-prohibitive, so they approached Guns & Hoses for help.
After an impassioned presentation, the Guns & Hoses board voted to purchase the boat for Garland, along with the dry suits.
The Inmar inflatable boat comes with an Evinrude 40 horsepower E-tec outboard motor with a spare prop, along with a galvanized trailer and storage box. Before the boat can be placed into service, firefighters will complete a boat-rescue operations course, along with lots of practice for boat handling.
The department also received a generous grant for dry suits from the BMF Project. These suits will protect firefighters from cold and potentially contaminated waters during rescue operations.
"We are extremely grateful to the Guns & Hoses Foundation and the BMF Project for their generosity and collaborative efforts in protecting our community and our firefighters," said Chief Lee.