Hawaiian Turkey Burgers
Turkey burgers are a delicious change of pace. Slap these moist patties on the grill for a special treat!   This is a simple and delicious recipe. After making them the first time my husband said 'no more' to beef burgers. These are good – any cooking method may be used, and they freeze very well.
12 Servings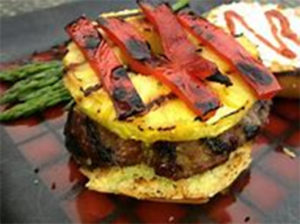 INGREDIENTS:
2 tablespoons olive oil
2 1/3 cups finely chopped onions
1 slice whole wheat bread, chopped into crumbs
4 teaspoons Worcestershire sauce
1 1/2 tablespoons Dijon mustard
4 cloves garlic, finely chopped
2 teaspoons poultry seasoning
1 teaspoon ground mustard
1 teaspoon ground black pepper
1 pinch salt
3 1/2 pounds lean ground turkey
sliced red bell peppers
12 round pineapple sliced
3 red bell peppers, sliced
2 large red onions, sliced
Iceberg lettuce, rinsed and dried
4 tomatoes, sliced
Pickles to serve on side
Grill; sliced red bell peppers, sliced pineapples and sliced red onions set aside to place on the top of the burger with lettuce, tomato and pickle
INSTRUCTIONS:
Prep: 15 m  Cook: 25 m
Heat olive oil in a small skillet over medium heat. Cook and stir onions and garlic in the hot oil until tender and lightly browned, about 15 minutes; transfer to a large bowl.
Mix bread crumbs, Worcestershire sauce, Dijon mustard, garlic, poultry seasoning, ground mustard, pepper, and salt with the onion. Break the turkey into small pieces into the bowl; mix with the bread crumb mixture until evenly combined. Shape the turkey mixture into 12 patties; wrap in plastic wrap and refrigerate at least 20 minutes.
Cook the patties on grill until no longer pink in the center and the juices run clear, 4 to 5 minutes per side. An instant-read thermometer inserted into the center should read at least 165 degrees F.
Remove patty from grill and place buns cut side down into grill to toast for about 1 min. Place turkey burger, veggies and pineapples in layers on toasted buns and serve! Optional: moisten bun with your choice of mayonnaise or other choice of dressings and condiments. Enjoy!!!