The holidays have never been so funny at Garland Civic Theatre!
The holidays have never been so funny at Garland Civic Theatre!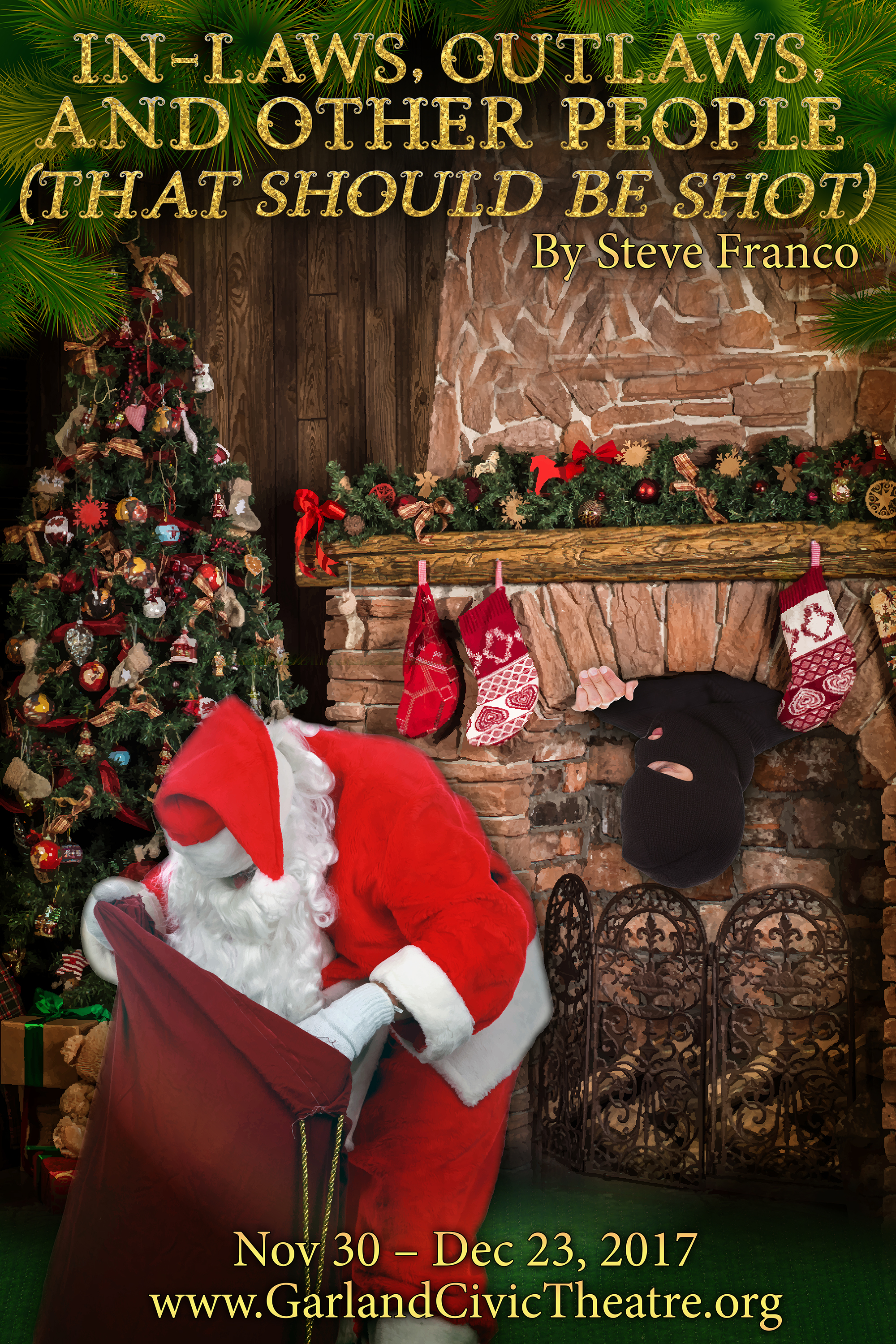 Join Garland Civic Theatre for our 50th Anniversary Season! Garland Civic Theatre was founded in 1968 and is the oldest community theatre in Dallas County. To celebrate, we are producing a spectacular season of theatre filled with mystery, laughter, music, and love. Garland Civic Theatre is proud to present "In-Laws, Outlaws, and Other People (That Should Be Shot)" as we continue our thrilling 50th Anniversary Season.
It's 6:00 pm and the Douglas family is busily preparing for their annual Christmas Eve dinner. After robbing a neighborhood liquor store, high strung and irritable Tony, and his dim-witted side-kick Vinny, find themselves in need of a hide-out. A comic holiday treasure that is sure to leave you in stitches while celebrating the true meaning of Christmas.
The talented cast features Michael Baker as Dad, Samantha Labrada as Beth, Callie Buck as Mrs. Draper, Meg Steffens as Bunny, Gerald Fitzgerald as Bud, Kiera Mullany as Tracy, Jacque Marshall as Aunt Rose, HM Ayers as Tony, Gustavo Rodriguez as Vinny, Brendan Ramsey as Paul, Camila Fonseca as Emily, Lisa Hensley as Mrs. Wakowski, Becky Byrle as Janet, and Mark Inman as Officer Henley. The production is directed and designed by Joshua Hensley, with costume design by Chelsea Prettyman. It is stage managed by Meg Steffens.
Performances are Thursday, Nov. 30, through Saturday, Dec. 23, in the small theatre at the Granville Arts Center at 300 North Fifth Street in Garland. Performances include a Thursday night preview performance, Nov. 30, at 7:30 p.m., Friday and Saturday evenings at 8 p.m. and Sunday matinees, Dec. 10 & 17, at 2:30 p.m.
Tickets are available now!
Order online at
www.garlandartsboxoffice.com
or call the Granville Arts Center box office at 972-205-2790. Ticket prices range from $12 – $17. Discounts are available for KERA members and groups of 10 or more. Garland Civic Theatre 2017 – 2018 50th Anniversary Season is sponsored by the Garland Cultural Arts Commission. Please visit
www.garlandcivictheatre.org
or call 972-485-8884 for additional information.