Lakewood Brewing Company Expansion
Lakewood Brewing Company Expansion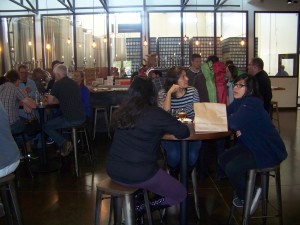 Lakewood Brewing Company celebrated the grand opening of its expansion on Saturday, April 4. Their expansion involved the construction of a 3 story ultra modern facility that includes a tap room that will accommodate 300 guests, and an open floor plan that features a second story walk that surrounds the building with the brewery on one side and offices on the other. The height of the space creates an atrium effect. The tap room is furnished with a bar with 16 taps, and pub tables and chairs arranged throughout the room, which was occupied by at least 200 guests.
For this event, the rear parking lot was being used as the location of a band playing retro music. Located in the driveway were food vendors under tents. We particularly enjoyed the gyros being served by employees of Opa, the popular Greek restaurant in Rowlett.
The building that originally housed the brewery is dwarfed by this impressive expansion and now serves as their tasting room, according to Lakewood proprietor, Wim Bens. The tap room will be open to the public. The brewery is located at 2302 Executive Dr. in Garland.