Roasted Butternut Squash and Bacon Soup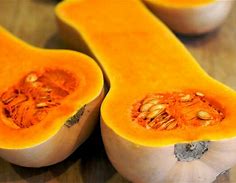 While Thanksgiving is a time to be thankful for all the blessings in our lives, it's also the perfect excuse to overindulge in a ridiculously delicious home-cooked meal with family and friends. But after years of the same old recipes, it might be time to update your Thanksgiving cookbook with some new twists on those traditional dishes.
Soup might not be a Thanksgiving tradition in every family, but that will surely change after you see this creamy butternut squash soup sprinkled with bacon bits and rich goat cheese. Stir all the delicious flavors of fall together in one warm and hearty bowl.
hope it's not too late to still enjoy a piping hot bowl of the coziest butternut squash soup ever
Now I've made and tried quite a bit of butternut squash soups in my day, but I could honestly say that nothing tops this one here.
The secret is simple but very crucial to make this soup what it is. It's the process of roasting the butternut squash with bacon, and then blending them right up. That way, you have that smoky bacon goodness built right into the soup.
And the garnishes – the creamy notes of goat cheese and that extra crisp bacon right on top. Yes, you certainly can't forget about those!
Roasted Butternut Squash and Bacon Soup
By far the best butternut squash soup ever, with the help of those crisp bacon bits blended right into the soup!
Ingredients:
1 butternut squash (about 3 pounds), peeled, seeded and cut in 1-inch chunks
1 onion, diced
1 red bell pepper, chopped
4 slices bacon, diced
2 tablespoons olive oil
2 cloves garlic, minced
Kosher salt and freshly ground black pepper, to taste
For the soup
4 slices bacon, diced
1/2 teaspoon dried thyme
2 1/2 cups chicken stock, or more, to taste
1/4 cup crumbled goat cheese
2 tablespoons chopped chives
 Directions:
Preheat oven to 400 degrees F. Lightly oil a baking sheet or coat with nonstick spray.
Place butternut squash, onion, bell pepper and bacon in a single layer onto the prepared baking sheet. Add olive oil and garlic; season with salt and pepper, to taste. Gently toss to combine.
Place into oven and bake for 25-30 minutes, or until butternut squash is tender, stirring at halftime. *
Heat a large skillet over medium high heat. Add bacon and cook until brown and crispy, about 6-8 minutes. Transfer to a paper towel-lined plate.
Heat a large stockpot or Dutch oven over medium heat. Add butternut squash mixture and thyme, and cook, stirring occasionally, until fragrant, about 1-2 minutes; season with salt and pepper, to taste. Stir in chicken stock and puree with an immersion blender.
Bring to a boil; reduce heat and simmer until slightly thickened, about 5-10 minutes. If the soup is too thick, add more chicken stock as needed until desired consistency is reached.
Serve immediately, garnished with bacon, goat cheese and chives, if desired.
Juanita Lopez