Carrie: The Musical" at Garland Civic Theatre!‏
Carrie: The Musical" at Garland Civic Theatre!‏
Garland Civic Theatre celebrates its 47th birthday with a thrilling production of CARRIE: THE MUSICAL
Based on the novel Carrie by Stephen King
Kyle McClaran directed this exciting and madly feverish musical that strait-forwardly addresses the highly relevant subject of bullying in our society…
Carrie White is a misfit. At school, she's an outcast who is bullied by the popular crowd, and virtually invisible to everyone else. At home, she's at the mercy of her loving but cruelly over-protective mother. But Carrie has just discovered she's got a special power, and if pushed too far, she is not afraid to use it.
The talented cast includes Delaney Brown as Carrie White, Marilyn Twyman as Margaret White, Melissa Hight as Sue Snell, Josh Hensley as Tommy Ross, Ashley Markgraf as Chris Hargensen, Timothy Turner-Parrish as Billy Nolan, Brandy Nuttall as Miss Gardner, David Tinney as Mr. Stephens, Brittany King as Norma, Brittany Brown as Helen, Kaitlyn Patton as Marvellenne, Tess Cutillo as Frieda, Hector Cabrerra as Freddy, Colton Burkett as George, and Adam Lutrull as Stokes.  The Musical Director is Kevin Sutton.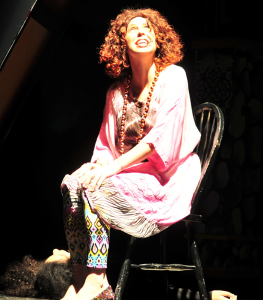 Performances are Friday and Saturday, May 8th and 9th at the Granville Arts Center, 300 North Fifth Street, Garland, Texas. Tickets are available at the box office, 972-205-2790, or online at www.garlandartsboxoffice.com. All tickets are $27 which includes service fees. There are discounts available for groups of 10 or more.
Season sponsors include Garland Cultural Arts Commission and The Dallas Morning News. Visit the GCT website at www.garlandcivictheatre.org or call 972-485-8884 for additional information.