Garland ISD news: Feb. 2-6‏
Garland ISD news: Feb. 2-6‏
Rowlett HS Jazz Ensemble to perform with local community band
The Rowlett High School Jazz Ensemble will join forces with the Richardson Community Band to present an afternoon of popular compositions. Enjoy their free "And All That Jazz!" performance at 2 p.m. Feb. 8 at the Eisemann Center in Richardson.
"One of the goals of the Richardson Community Band is to offer affordable entertainment to the families of the Dallas-Fort Worth area," said Band President Ken Lenoir. "It was the decision of the Board to have no admission fee for any of the Band's concerts. We hope this decision will make our performances accessible to even more citizens."
The concert will feature well-known jazz tunes by Count Basie, Duke Ellington and Stan Kenton. In addition to performing selections alone, both groups will collaborate on several compositions written exclusively for concert and jazz bands by McKinney-based composer John Wasson.
Garland ISD Director of Fine Arts George Jones serves as the Richardson Community Band's conductor. Guests of honor will include Rowlett High School band director Phillip Alvarado and RHS alumnus and trumpet soloist Micah Bell.
"The Rowlett High School Jazz bands consistently rank among the top bands in our area and have garnered many awards over the past 18 years," Jones said in a press release. "Micah received a bachelor's of music education from Texas Christian University and master's in trumpet performance. He has been the Dallas Area Youth Jazz Orchestra director, a Collin College trumpet professor and a University of North Texas One O' Clock Lab Band member."
For more information on this concert, visit the Richardson Community Band's 
website
.
---
GISD's Student Nutrition Services explores new, refreshing initiatives
With countless studies linking a well-balanced diet to high academic performance, Garland ISD places an emphasis on providing wholesome meals for every boy and girl. This year, the district introduced
Breakfast in the Classroom
 in 15 schools, providing the most important meal of the day to all students free of charge. GISD's Student Nutrition Services (SNS) Department is now looking for additional initiatives and participated in the first 
Chefs Move to Schools
 National Advisory Group meeting Jan. 14-16.
"It is exciting for Garland ISD to be part of an initiative like this one, which has the potential to affect students across the United States," said Associate Superintendent of Administration Doug Brubaker. "Director of Student Nutrition Services Brandford Trudeau will do a great job representing GISD and other school districts nationwide."
The Chefs Move to Schools program is a component of First Lady Michelle Obama's "Let's Move!" campaign, which has an end goal of solving the childhood obesity epidemic within one generation. This program promotes the collaboration of chefs and schools to educate students about food and healthy eating.
GISD was invited to be one of just two school districts in the National Advisory Group, serving alongside representatives from the United States Department of Agriculture, National School Food Service Institute, White House staff and industry as well as nonprofit organizations.
"We have a great food program here and need to expose more students to our healthy choices in meals," Trudeau said. "Chefs can bring a certain credibility to our food program that students respect."
SNS is currently setting the framework for a Chefs Move to Garland ISD day in the fall.
"We hope this new program will entice more children to develop healthy eating habits," he explained. "We also want to encourage them to eat breakfast and lunch in the cafeterias across GISD."
For more information on GISD's Student Nutrition Services, visit the department's 
website
.
---
GHS student makes name for herself in national youth boxing
While boxing has historically been a male-dominated sport, one Garland ISD student is making a name for herself in the ring. Garland High School junior Annalicia Sustaita won the women's welterweight division title in the 2015 USA Boxing Junior Open and Youth National Championships Jan. 9, earning a chance to participate in the world competition.
"Because of this last fight, I won my spot on the national team, which got me ranked No. 1 in the United States," she said. "It feels amazing just to see my dad and family proud of me."
Starting her journey into boxing just three years ago, Sustaita's experience has been short but life-changing. The 16-year-old picked up the sport to help adopt a healthier lifestyle.
"I used to be obese. I was about 5 feet 3 inches and weighed close to 200 pounds," she explained. "I was a cheerleader and played soccer, but people bullied me. It got to the point to where I said, 'I am done. I do not want to be bullied the rest of my life.' I changed and started eating right, but every sport I tried was not really helping me keep my weight down. So I thought, 'I have never tried boxing, I am going to try it.'"
Practicing a new, demanding activity proved to be a challenge—one Sustaita wanted to tackle.
"At first, I thought it was not the right sport for me," she revealed. "But my godfather always told me you could do anything you set your mind to. I knew I had to do this for me and my family."
After learning the intricacies of combat, Sustaita grew to love boxing. She now trains with her father, who is also new to the sport, more than 20 hours a week. That dedication has led to many victories, as well as local and national acclaim.
"I would never have guessed that I would be doing this right now. Going from a cheerleader to being ranked No. 1 in boxing, it is a big eye-opener. It is crazy," she said.
The junior will soon take a once-in-a-lifetime trip to Colorado and Taipei, Taiwan.
"In May, I will train in Colorado's Olympic center with Olympic coaches for two weeks. From there, I will travel to Taipei for another two weeks of training before the world championships," Sustaita stated. "I will also have mandatory tutoring so I can still get my schoolwork done."
Although a trip across the world and a national title are excellent rewards, Sustaita believes the ring has caused a significant transformation that she is proud to own.
"I gained a lot of respect, confidence and self-discipline. I am very grateful for that. I really hope that I can show others that anything is possible."
Photos courtesy of Annalicia Sustaita.
---
GISD commemorates African American History Month
Students across Garland ISD are observing African American history through enlightening attractions and energetic programs this month. Back Elementary School kick started the celebrations with their African American sitcom-themed Step Team tour Feb. 4.
"We included shows that we—the coaches—watched when we were kids and incorporated little things we remembered in the program, like George Jefferson's strut," said Back second-grade teacher and coach Anjelica Turner. "The tour went well. The more shows they do, the more comfortable they will feel performing."
Now in its third year, the Back Elementary Step Team includes 18 third, fourth and fifth-graders. In addition to wowing the audience with rhythmic step routines, the group also entertained with dance numbers set to theme songs of popular sitcoms, such as "Good Times," "In Living Color" and "The Fresh Prince of Bel-Air." The performance featured students sharing historical facts and uplifting messages, as well.
"We were very excited about starting this big tour this year. The kids loved it," said music teacher and coach Jean Metcalf. "This has been a fun ride."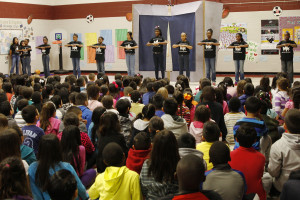 By the end of the day, the Step Team and their three coaches visited Shorehaven, Couch, Club Hill and Rowlett elementaries.
"With the tour, I wanted them to get the feel of being able to perform in front of people they do not know. So, if one day we perform in a competition setting, it is not nerve wracking," said coach and second-grade teacher Ebonee Torrens. "We have always shown them where this eventually ends up, and I hope one day to allow them to compete."
Although Back's Step Team tour is complete, other campuses will follow suit with festivities throughout February. The following schools will host events and activities later this month:
Black History Community Walk at the Garland ISD Alternative Education Center: Feb. 12
Black History Museum at Classical Center at Brandenburg: Feb. 20-27
Black History program featuring NAACP Garland Chapter President Ricky McNeal at Handley Elementary School: Feb. 26, 6:30-8 p.m.
The Yellow Brick Road to Harlem Black History Celebration at Steadham Elementary School: Feb. 26, 6 p.m. and Feb. 27, 8:30 a.m.
Photos courtesy of Caren Rodriguez.