Granville Arts Center News Release‏
Granville Arts Center News Release‏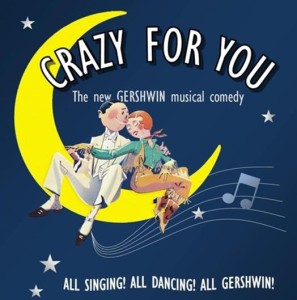 GSM to Present Gershwin's Song and Dance Spectacular
Garland, Texas (July 17-26) —
On July 17 through July 26,  Garland Summer Musicals will present the Gershwin extravaganza "Crazy For You." It's a romantic tale of boy-meets-girl in the Wild West! The show opens at the Zangler Theatre in New York in the 1930's, and quickly moves to Deadrock, Nevada, where the wealthy Bobby Childs is sent by his mother to carry out some banking business for the family. This results in Bobby's discovery of Polly Baker and love at first sight! "Crazy For You" is packed with hilarious comedy and show- stopping Gershwin numbers including:  "I Got Rhythm", "Embraceable You",  "Bidin' My Time",  "Someone to Watch Over Me", "They Can't Take That Away From Me", "Nice Work If You Can Get It," and many more!
The Cast includes:  Joseph Jones as Bobby Childs; Stephanie Riggs as Polly Baker; Steven J. Golin as Lank Hawkins, Rose-Mary Rumbley as Mother; Stan Graner as Bela Zangler; Christine Cunningham Phelan as Irene Roth; Phil Alford as Everett Baker; Delynda Johnson-Moravec as Eugenia Fodor, and Jill Lightfoot as Patricia Fodor; Caren Sharpe-Herbst as Tess; Steve Beene as the Bartender, and Linda Frank as the Banker. Follies Girls include: Briana Abbott, Mindy Neuendorff, Stephanie Butler, Caitlin Jones, Lori Jones, Katie Nicholas, McKenna Woodlan, Alex Altshuler, Helena Lynch and Brittany Stahl.  Cowboys include: Brad Weatherford, Nicholas Winterrowd, David Helms, Sammy Swim, Adam Henley, Isaiah Harris, Joshua Scott, Joshua Kumler, Carlos Gomez, Nick Chabot and Mark Quach.
"Crazy For You" will be directed by Buff Shurr and the Producer is Patty Granville. GSM staff for "Crazy For You" also includes: Larry Miller as the Music Director/Conductor; Joseph Jones as the Choreographer; Julie Russell Stanley as the Assistant Choreographer;  Alan Hanna as the Stage Manager. Set Design is by Donna Marquet; Lighting Design is by Susan A. White; Props are by Lynn Mauldin and Rebekka Koepke; Costumes are by Michael Robinson and Susie Cranford with the Dallas Costume Shoppe; the Master Carpenter is Joe Murdock;  Sound Design is by Tyler Payne; the Technical Director is Tim Doyle.
All performances are held in the Brownlee Auditorium of the Granville Arts Center, 300 North Fifth Street in downtown Garland.  Tickets are available at the Arts Center Box Office or by calling 972-205-2790 (MasterCard , Visa and Discover).  On- line ticketing is available at 

www.garlandartsboxoffice.com

.
Special college credit is provided through a partnership with Eastfield College and the Dallas County Community College District for everyone cast in the show and technical crew.  The Garland Summer Musicals are funded in part through special grants from the Garland Cultural Arts Commission, Inc., GSM Guild, Garland Power & Light, Garland Water Utilities, Micropac, and Ecolab.
Where are we located? Granville Arts Center is located at 300 N. Fifth Street
, Garland, TX 75040.  Parking is free.
Granville Arts Center News Release
For more information contact:
Cheyenne Schweitzer
972-205-2782 (office)


cschweitzer@garlandtx.gov