Glimpsing Garland Ghosts
The gloomy second floor apartment above the light fixture store at 316 Main Street hasn't been occupied by any living humans since 1958. The appearance of a male figure has been reported by the owners of the lighting fixture store downstairs and there has been evidence of things being moved about in the apartment upstairs. It seems the old building once a humble oil station, is haunted. Robert A. Smith, current owner of the property has decided to take action.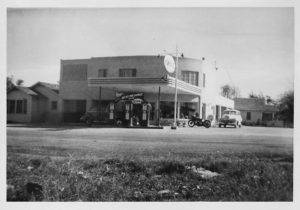 After several reports indicating that the place could be haunted, Smith installed a camera with spectrometric capabilities in the creepy upstairs apartment. It wasn't long before the presence of specters was detected and the outlines of two figures were recorded. Lucas Cervellini also witnessed the paranormal activity captured by the camera. The two men could have been Bill Murray and Dan Aykroyd in a scene from their "Ghost Busters" movie.  But this is not make believe, this is some crazy stuff that is actually going on today, in Historic Downtown Garland… no kidding!
Having confirmed to his satisfaction that his building is indeed haunted, Smith had to decide how to handle the situation. Smith had considered making the abandoned apartment his office, but that wouldn't result in any cash flow. Perhaps he could capitalize on the haunted space by attracting folks who are drawn to such anomalies. How about a haunted Air B & B?
---
---
The decision has been made. Smith reconnected with a designer and told him about the apartment which has now been officially given the address of 316 1/2 Main Street. He told him of his plan to design and furnish it just exactly as it would have been in 1958, down to the last detail. Rather than just a bedroom, the guest will have access to the entire apartment. No additional charge for any spirited entertainment.
If Smith carries through, and furnishes it in authentic 50's style, it will be appealing to the many fans of all things mid century. Past performance has proven him to be a master of historic reproduction.
In the meantime, if you happen to own a chrome and formica dinette set that you would like to sell, I think I know where you might find a customer.
---
Nancy Ghirla
Email: nghirla331@gmail.com