Former Garland Mayor Celebrates 70th
Former Garland Mayor Celebrates 70th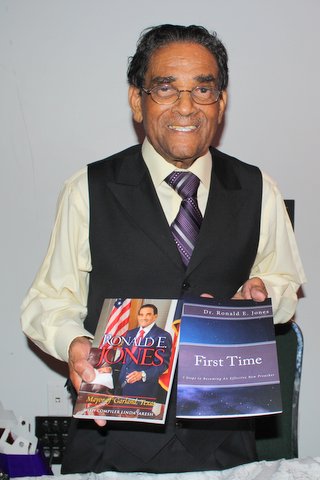 Former Mayor Ronald E. Jones celebrated his 70th birthday in fine fashion. Jones is all about fine fashion, always impeccably groomed, with a course in ladies' fashion design. Peggy Jones, Ron's wife of 47 years, said she knew Ron would want to go big, referring to her party plans. She chose the Atrium at the Patty Granville Arts Center as a venue and created a display of her husband's art on easels in the lobby. A gifted artist, Jones was planning to pursue a career in art when he discovered he was allergic to paint. It was then that he switched his major to fashion design.
The artwork on display was created in graphite with family members as subjects, each portrayed with sensitivity, in minute detail; obviously drawn by a loving hand.
Just inside the door leading into the ballroom, our former mayor sat signing his latest book for guests who waited patiently in line with a stack of his work selling for $15 each. He seemed to be enjoying himself as he greeted his guests and signed copies of his book. The paperback book contains 147 pages and is titled, "Ronald E. Jones, Mayor of Garland, Texas". A band was playing as guests made their way into the ballroom and searched for an empty seat at round tables set for ten.
The Reverend Dr. Ronald E. Jones is now serving the congregation at New Hope Baptist Church in Dallas as Senior Pastor. Many members of that congregation were on hand to celebrate their pastor's 70th birthday, as were family members, including 9 grandchildren. Also among the guests were Garland City Council members past and present, Mayor Douglas Athas, Rep. Cindy Burkett and many of the friends Jones made during the 6 years he served the City of Garland as its mayor. Jones worked as an insurance salesman before being hired by the City of Garland, working his way up to assistant city manager and finally becoming the first African American to be elected mayor. His was a circuitous route to the pulpit, but it seems he was destined to lead a church. His father was a Baptist minister and his brother and son are now following in the family tradition.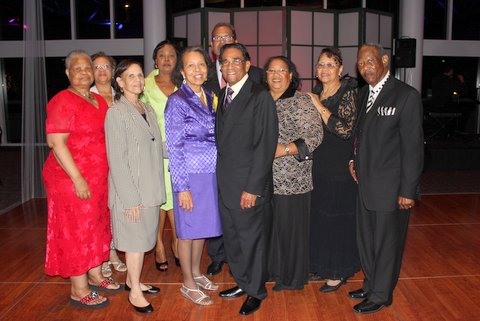 Jones thanked his guests for attending and gave special recognition to Jackie Feagin and Annie Dickson for having encouraged him to run for mayor. Mayor Douglas Athas presented Jones with a declaration, proclaiming June 17, 2014 as Ronald E. Jones Day.
Approximately 200 guests enjoyed a barbecue dinner and were entertained throughout the evening by the Jones family. We sang Happy Birthday and were treated to birthday cake served by Ron and Peggy's beautiful little granddaughters.
It was a memorable evening and fitting tribute to the dapper man who first introduced himself to me about six years ago as, "Mayor Ronald E. Jones, at your service."
Photos courtesy of Delores Elder Jones.