Closures Expected as Kiosk Construction Kicks Off Downtown
Closures Expected as Kiosk Construction Kicks Off Downtown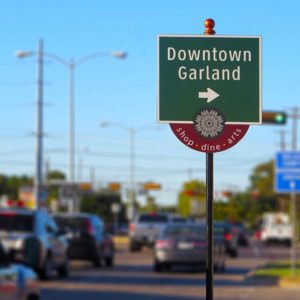 Construction on new wayfinding kiosks in Downtown Garland began April 8 and will continue with installation of additional kiosks at the Central Library (Austin Street at Sixth Street) and on Main Street (at Glenbrook Drive). Lane closures and/or parking blockages are expected in these areas.
The first set of kiosks are under construction in the following locations:
Downtown Square (State Street at Sixth Street)
Granville Arts Center (Fifth Street at Austin Street)
City Hall (Fifth Street at State Street)
These installation areas will be impacted for up to two weeks. The new kiosks are the next phase of the City's wayfinding program to help direct travelers to and around historic Downtown. The kiosks will feature maps and messages highlighting the area's many features.
The wayfinding program is intended to create a user-friendly, visible navigational system to guide visitors and residents to key Garland destinations, while marketing the City's historical, cultural and entertainment venues and assets. The wayfinding program also includes directional signage along major thoroughfares to assist motorists.
For more information, contact Angela Self at ASelf@GarlandTX.gov.