Grant for Garland Campus
RICHLAND COLLEGE GARLAND CAMPUS AND DALLAS COUNTY MANUFACTURERS' ASSOCIATION RECEIVE $434,328 GRANT FROM TEXAS WORKFORCE COMMISSION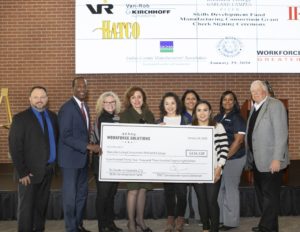 GARLAND, TX – Richland College, Dallas County Manufacturers' Association and Texas Workforce Commission representatives participated in a check-signing ceremony Jan. 29 in the Richland College Garland Campus gallery, during which Richland College Garland Campus and the DCMA were awarded a $434,328 Skills Development Fund grant to train 272 employees for more than 7,373 training hours.
"We have gathered to acknowledge our appreciation for the important industry training impact that this $434,328 Texas Workforce Commission Skills Development Fund grant is making possible through Richland College Garland Campus and its dynamic tri-partnership with the Garland Chamber of Commerce and the Dallas County Manufacturers' Association," said Kathryn K. Eggleston, president of Richland College. "This grant enables this triad to advance and expand technical and non-technical training to employees at seven Garland and regional area companies, continuing to leverage our capacity to grow the economic base of Garland's manufacturing sector businesses, while also contributing to a skilled Texas workforce."
The companies included in the grant are Ecolab; RHE Hatco, Inc.; Interceramic; Kirchhoff Automotive; Mapei; Marlow; and Sanden Vendo of America. Training sessions under the grant include: Electrical Basics and Troubleshooting, Geometric Dimensioning and Tolerancing,
Forklift Certification, Project Management Fundamentals, Lean Manufacturing, Six Sigma Green Belt, CPR/First Aid/AED, Project Management, Microsoft Office and Leadership.
Upon completion of this training, Richland College plans to continue working with the Texas Workforce Commission to receive additional Skills Development Fund grants to offer training opportunities to other north Texas businesses.
# # #
Cutline: From left to right: Steven Bridges, Workforce Solutions Great Dallas; Aaron Demerson, Texas Workforce Comission Commissioner Representing Employers of Texas; Kimberly Wilkins, Richland College Garland Campus; Kay Eggleston, Richland College President; Daniela Reyes, Interceramic; Stephanie Loredo, Sanden Vendo of America; Amanda Garcia, Mapei Corp.; Amanda Garcia, Mapei Corp.; Latoya Brown, Global Supply Chain, Ecolab; Paul Mayer, Garland Chamber and DCMA. Photo courtesy of Richland College.