April Updates‏
There's a LOT going on in Historic Downtown Garland!
The old Garland power plant on Avenue A has been on the market for several years. We've watched as the roof gave way in spots and the pigeons deposited guano on the floor below. The little jail on the end was home to a vagrant for a while but has had no residents for quite some time. We decided to call owner Wayne Landin in Houston and find out its current status. We were delighted to learn that the property is now under contract to an investor group. They are now studying the old red brick building to determine their route for development.
---
The Lyles/Tinsley House, saved from demolition when Heritage Park was dismantled to make way for a new apartment complex, has been moved to its permanent location. Formerly stored on a trailer in the parking lot of the Grandville Arts Center, the grand old home is now situated behind the Central Library along side the DART light rail tracks. There is still work to be done, as the building remains elevated to allow for foundation preparations. It is now part of Heritage Crossing, neighboring the old Santa Fe train depot and the Pullman railcar. These are 3 of the 4 components that once comprised Heritage Park. The fourth component, the venerable Pace house is now a private residence on Eleventh Street.
---
Robert Smith, owner of the Generator Coffee House, 507 and 509 State Street, all 3 bordering the downtown square, announced that Intrinsic Brewing Company has signed a lease for the 509 building. Cary Hodson, owner of Intrinsic, will open a brew pub on the property in time for Oktoberfest and his 30th birthday. The food menu will feature barbecue, a type of food not yet available among the several downtown eateries.
---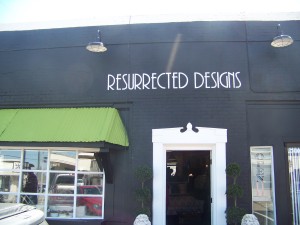 The former location of the Kurry King Spice Shop has become the expansion of Resurrected Designs, and it's delightful! Emily Low, the shops proprietor is a master of giving old items a new look and purpose, hence the shop's name. The shop's look and feel is vintage, but there are new gift and home décor items to browse along with resurfaced and repurposed merchandise. The talented lady informed us of her plans to organize an outdoor market in the vacant lot behind her store to take place once a month.
This tasteful and charming store is located on the corner of Main and Seventh Streets and is open Wednesday through Saturday.
There will be monthly outdoor marketplaces in the vacant lot behind Resurrected Designs beginning on May 9 and continuing on second Saturdays through November. There will be a variety of "cool stuff" being sold by vendors, according to event organizer, Emily Low.
---
The former location of Paw Paw's Sweet Shoppe on State Street is now the home of a peanut brittle business. These folks have been selling their snacks at Canton on First Mondays and other similar marketplaces. Ever taste peanut brittle flavored with jalapeños? They also have a wide selection of Watkins products and all things jalapeño, including a handy little device for stuffing the little hotties. Drop in and enjoy a sample of their more than a dozen different crunchy brittles. These folks have not yet decided just what their store hours will be.
---
We were welcoming another new store, the Texas Hot Spot, on Main Street just across from roach Feed and Seed. When folks started rushing outside and I followed to see what
all the excitement was about. Who could have guessed it was all about a rooster??? The bird had escaped the confines of the feed store the night before and had been on the lam every since. This rapid rooster ran like a roadrunner, a hilarious scene unfolded as folks chased after the fugitive fowl. A pick-up truck pulled over and its driver gave chase along with the 3 other pursuers who followed the bird across Main Street, through a parking lot, along the railroad tracks and out into a field before finally deciding that Rocket the rooster had outrun them and was not about the be caught. Too bad we didn't get the chase on video, but I did manage to get a photo of the rooster in full stride.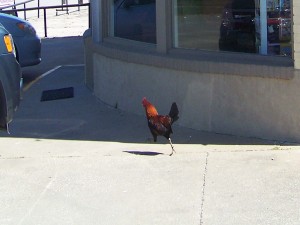 Five days later I went back to chat with the shop's owners and found out that Rocket was now strutting around their parking lot on a daily basis. The store, by the way, features items for sale that had been donated to a charity and another selection of items purchased at auction. This is another good place to browse, and if your timing is right, you may witness another rooster race.
Nancy Ghirla, ed.