Color Up 5k Comes to Garland in September
Color Up 5k Comes to Garland in September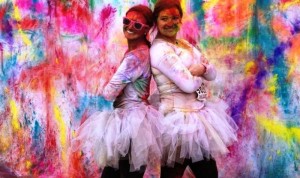 On the morning of Saturday, September 13 hundreds of runners and walkers will begin a race that will take them from the Atrium at the Granville Arts Center in downtown Garland to Central Park, and back to the Atrium. What makes this 5k different from all others is the colors being tossed at the runners as they make their way along the route. The runners will return to the Atrium covered with splotches of color from head to toe. There will be a party following the race.
Patty Granville explained that Garland Summer Musicals was contacted by the Color-Up group because it is a non-profit organization and the group is in the business of fund raising. They will handle the whole event, but GSM has to provide 90 volunteers to throw color and hand out water bottles. The event has a following and 600 runners were signed up by August 15. GSM will receive $5 for everyone who signs up for the race. Granville was worried about the mess that would be left along the route, but Color-Up cleans up after the race, too.
The initial sign-up fee was $25, but it increases as the date draws near. This will definitely be a "fun run", and will enjoyed by both runners and onlookers.
As far as race apparel is concerned, anything goes. A tutu with high silly socks may be considered a super cool outfit, or a crazy wig and overalls for the more conservative runners in the crowd. Watch the Garland/Rowlett Messenger for a wild and whacky collection of photos from this event!
Choose your start time wave, and prepare to run wild: 8:00 am, 8:10 am, 8:20 am or 8:30 am.  To register for the race visit www.ColorUp5K.com/garland.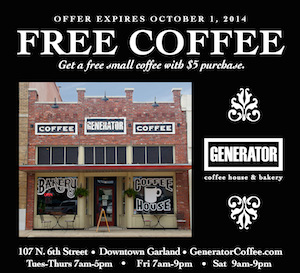 Where are we located? Granville Arts Center is located at 300 N. Fifth Street, Garland, TX 75040. The starting line is at the Granville Arts Center. Parking is free.
September 13 at 8 am.
Registration price varies as the race approaches.
Registration visit ColorUp5K.com/Garland.
To volunteer email kpajot@garlandtx.gov. 90 volunteers are needed!