Spanakopita (Greek Spinach Pie)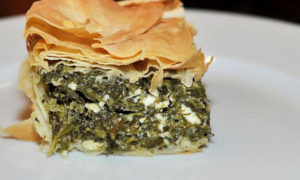 ---
Lent began Wednesday March 6, starting the 40-day journey leading up to Easter. Catholics don't eat meat on Ash Wednesday, Good Friday, and all other Fridays during Lent.
Abstaining from eating meats, including beef and chicken, is considered a sacrifice to God, especially since meat has traditionally been known as a luxury.
Here is a light and fresh Greek Spinach pie for the lent season.
Prep  30 m
Cook 1 h
Ready In 1 h 30 m
INGREDIENTS:
1 large onion, chopped
1 bunch green onions, chopped
2 cloves garlic, minced
2 pounds spinach, rinsed and chopped
1/2 cup chopped fresh parsley
2 eggs, lightly beaten
1/2 cup ricotta cheese
1 cup crumbled feta cheese
8 sheets phyllo dough
1/4 cup olive oil
INSTRUCTIONS:
Preheat oven to 350 degrees F (175 degrees C). Lightly oil a 9×9 inch square baking pan.
Heat 3 tablespoons olive oil in a large skillet over medium heat. Sauté onion, green onions and garlic, until soft and lightly browned. Stir in spinach and parsley, and continue to sauté until spinach is limp, about 2 minutes. Remove from heat and set aside to cool.
In a medium bowl, mix together eggs, ricotta, and feta. Stir in spinach mixture. Lay 1 sheet of phyllo dough in prepared baking pan, and brush lightly with olive oil. Use pastry brush to moisten layer with olive oil.  Lay another sheet of phyllo dough on top, brush with olive oil, and repeat process with two more sheets of phyllo. The sheets will overlap the pan. Spread spinach and cheese mixture into pan and fold overhanging dough over filling. Brush with oil, then layer remaining 4 sheets of phyllo dough, brushing each with oil. Tuck overhanging dough into pan to seal filling.
Bake in preheated oven for 30 to 40 minutes, until golden brown. Cut into squares and serve while hot.