Annual Labor Day Parade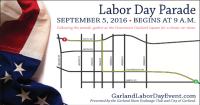 The City of Garland and the Noon Exchange Club of Garland invite the public to enjoy the 71st Annual Labor Day Parade and car show on Monday, Sept. 5. The parade kicks off at 9 a.m., followed by a free classic car show in the Downtown Garland Square!
The parade will begin at the intersection of Glenbrook Drive and Ninth Street, then will head north on Glenbrook toward Main Street. Follow the parade east on Main, and then north on Fifth Street; the parade will continue down Fifth and will end near the Granville Arts Center.
For more information about the car show, parade entries, or vendor opportunities, email noonexchangeclubofgarland@yahoo.com or visit GarlandLaborDayEvent.com.