Around Town Updates for August
Around Town Updates for August

Good Samaritans
Jim Griffin, director of Good Samaritans, an organization that offers assistance to needy families, certainly did a stellar job of bringing awareness and support to this charitable organization. It seemed as though he attended every event and addressed every group in Garland on behalf of Good Samaritans. The time has come for Jim to make his and his wife Jackie's health and happiness his top priority after contributing so much to so many others, so he is stepping away from his duties with Good Samaritans. Time will tell if this move will be permanent for Jim and the community.
Does I-635 (LBJ) go all the way to Panama?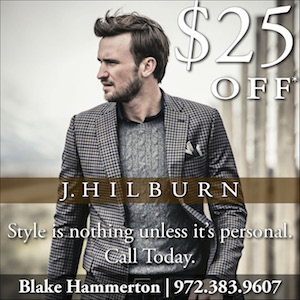 When I sat down in front of the TV on the evening of August 11, I was looking forward to watching David Riggs, President of the Garland Firefighters Association, present his case for an update of the firefighters' retirement benefit package to the Garland City Council during their Monday night work session. Among the first agenda items introduced by Mayor Douglas Athas was Transportation.
The City of Garland has retained a consulting firm to keep them up to speed and advise them on what appears to be a very complex, almost mystifying subject of the $2 billion I-635 expansion project. A very presentable young man representing that firm read from notes on meetings that had been attended on COG's behalf. He spoke somewhat monotone which soon lulled me to sleep.
When I awoke sometime later, the guy was talking about Panama! He was recommending that Garland City Council members attend meetings in Panama as they had done in previous years!! Apparently, I-635 stretched all the way to Panama while I was snoozing. The only reason for that journey, from what I could cull from the consultant's endless ramblings, was that the Canal is being widened. Surely that long-winded, highly-paid consultant must have made a coherent connection between the Panama Canal and Garland, Texas while I was dozing!
Riggs gave a great presentation on behalf of Garland's Firefighters but by the time he was called to speak, council members had been lulled into a state of semi-consciousness.
Art Café in Downtown Garland
The Generator Coffee House is about to become an art café, according to proprietor Lindsey Williams. Although the Generator has always made their brick walls available to local artists, it has been on a very informal basis. On September 11 there will be a "meet the artist" reception and opening of their first formal art show. On that Thursday evening, there will be refreshments served and artists on hand to answer questions. The art will be for sale and available for a limited time before being replaced by the next show. Williams tells us that she already has bookings for the remainder of 2014. The Generator Coffee House is located on Sixth Street and borders the Historic Downtown Square.
The Art Show will travel from Sunnyvale Baptist Church to Lavon Drive Baptist Church in Garland.
The Art Festival at Sunnyvale Baptist Church was organized by their Art Director, Mo Sanford, who is a world class artist herself. There are approximately 70 pieces of artwork that will travel from Sunnyvale to Lavon Baptist Church for a show opening on August 30, and remain on exhibit there through September 7. The artwork was created by members of the church, but outside groups and individuals have also contributed to the collection, which consists mainly of oil paintings with a theological theme. It's a very impressive collection and most pieces are for sale.