Bidding on Storage Lockers
Bidding on Storage Lockers
When the Holder family packed up and set out from their home in a small town in upstate New York last summer, they had no way of knowing just what awaited them at the end of their journey to Texas. April and Mark and their two teen aged sons, Brandon and Austin, were going to visit April's brother in Rowlett and try to decide what they were going to do with the rest of their lives.
April and Mark had been working opposing shifts and had little time to spend together. The harsh winter weather also played a part in their decision to move to Texas. April took a thirty day leave of absence from her job at Walmart so that she would be sure to have employment as they were getting settled in their new home. It was her brother who suggested the couple look into the storage unit business. When storage lockers are abandoned their contents are auctioned off to folks who resell the stored items.
After spending several months learning the business, the Holders opened "DFW Storage Finds" in Rowloett at Rowlett Road and Lakeview Parkway . They opened in December, 2013 and business was so brisk that they found it necessary to double their space in just a few, months. Their store features lots of dishes, kitchen appliances, jewelry, shoes, apparel and household furnishing, all at very reasonable prices. From time to time there are sets of fine china and one-of-a-kind pieces, like the metal cowboy sculpture that was displayed in their widow a few weeks ago.
The store is neat and clean, unlike many of the storage lockers they empty. According to auction rules they must clean out the locker completely, even sweeping up the dust on the floor. The bidders are required to base their bids on what they see before them when the locker is opened. They are not allowed to open boxes, drawers, luggage, etc.. The contents that have been hidden from view are discovered after the auction has closed. One of the Holders' locker clean-outs involved getting rid of a freezer full of meat that had been rotting for a few months. When they hoisted it up to get it into a dumpster, juices flowed out and onto them. Both Mark and April said the stench was absolutely sickening, but they can laugh about it now.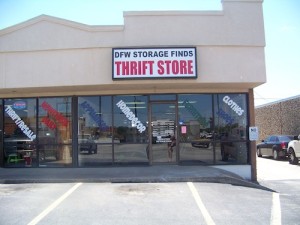 The inventory at DFW Storage Finds is constantly changing and always interesting. Not everything bought at auction is brought to the store, clothing, especially children's clothing, and toys are donated to Life Message, a charity located down Rowlett Road. There's a lot of physical labor involved in this business, but April and Mark seem to be up to the challenge.
"Now we're building something for our family, not some big corporation", said April. When asked if she was enjoying life in Rowlett, she replied, "I love it". Their eldest son, Brandon, is helping to tend the store and Austin is looking forward to his freshman year at Rowlett High School, where he hopes to play baseball.
Ten months after loading all their worldly possessions into a trailer and heading for Texas , the Holder family is thriving and Rowlett has a new mom and pop business that looks like it's here to stay.