Breweries & Brewpub
---
The micro brewing industry is rapidly growing throughout the country,and here in our corner of North Texas, as well.  There are four craft breweries in Garland and Rowlett combined. There is the Lakewood Brewing Company in Garland, and and the Intrinsic Brewpub. In Rowlett we have the Backcountry Brewery and The Bankhead Brewpub.
---
---
Our local brewpubs, Intrinsic and Bankhead,  are craft breweries and restaurants. Our local Breweries, Lakewood and Backcountry, sell beer but absolutely no food. The Licensing by the Texas Alcoholic Beverage Commission dictates what can and cannot be sold.
We recently visited the BackCountry Brewery at 3313 Enterprise Dr. In Rowlett. This  place is set back from the road in a industrial park with a parking lot out front. The interior is furnished with several conversational groupings and a bar in the tap room that seats about 12. Brewmaster Logan Fairweather was tending bar and gave us a warm welcome. The dimly lighted tap room gave the feeling of a relaxing hideaway, or perhaps a speakeasy. Fairweather explained that though you could purchase Backcountry beer in cans at Goody Goody, you could not purchase the packaged product there at the brewery, due to TABC regulations. There is absolutely no food available on the premises, but customers are encouraged to bring their own or arrange for deliveries from local restaurants. The towering tanks, pipes and gauges of the brewery are located at the rear of the building. There is also an outdoor patio and live music. They open at 4 pm and are closed Monday and Tuesdays.  The Backcountry Brewery in Rowlett just celebrated its first anniversary in January 2017. They purchased the Micro Brewery from the Firewheel Brewing Company and is a second location; Their Frisco Colorado location being their first. Frisco is a quaint skiing mecca with a population of about 2500.  On our next visit we will have to ask how Backcountry gravitated from the mountains to the plains of Rowlett.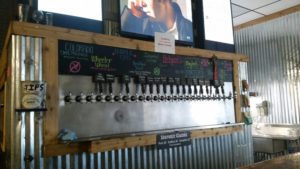 The Lakewood Brewing Company is by far the largest of the 4 micro breweries in our area.  Owner Wim Benz took us on a tour at his opening 4 years ago and proudly explained and displayed the Belgian techniques and ingredients used in making their beers. Lakewood now has a very large and upscale tap room, and like Backcountry, does not serve food. Food trucks assemble outside on weekends and live music can be enjoyed on the outdoor patio. Brewery tours are also available, as are tastings. Lakewood's bottled beers are widely distributed throughout the DFW metroplex.
Intrinsic Brew & Barbecue is located on State Street in downtown Garland, just across from the town square. This rustic micro brewery opened just 1 year ago. Intrinsic has a large patio area with live music and special events scheduled regularly. As far as their menu is concerned, barbecue is the only option. They offer beer tastings and wine is available for those who have not cultivated a palate for their brew. Intrinsic is the only microbrewery of the four mentioned that is open at lunch time six days a week. They are closed Mondays.
The Bankhead Brewery located on Main Street in Rowlett opened just a few months ago, and seems to be an overnight success. This Brewpub has a large menu ranging from an array of appetizers and Sandwiches to their gourmet pizza selections. Owner Kevin Lefere also owns the popular Zanata in Rockwall. This is an upscale version of a micro brewery with the restaurant area taking center stage. There is also an outdoor, canine friendly seating option under a roof that can be enclosed to protect patrons from wind and rain. This place also has live music in the outdoor seating area which fills up fast, so get there early. Place opens at 4 pm.
Since micro brewing is becoming so trendy, it seems likely there will be more openings in the near future. Cheers!
---
---
Nancy Ghirla