Christmas in Mexico by Mexico 2000 Ballet
Christmas in Mexico by Mexico 2000 Ballet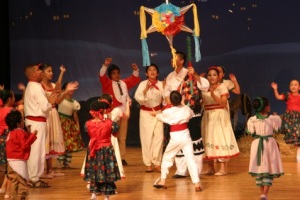 Join Ballet Folklorico December 13th at 7 pm for "Christmas in Mexico." For eight consecutive years México 2000 Ballet Folklorico has been presenting "Christmas in México" or "Navidad en México," a Pastorela-Dance under the direction of Mary and Alex Palencia. This choreographic montage, with more than 100 participants, is a representation of the birth of Jesus Christ, but with a unique style of mixing the biblical story with traditional dances from México and other countries.
This play includes traditional Mexican Christmas songs spreading the spirit of the Christmas season with beautiful costumes and choreography. "It is very important to continue exposing, thru dance, the most important traditions of the people in México, especially during this season with a strong lack of sensibility and historic conciseness, this event is a step forward to remember the Mexican popular culture", said Alex Palencia director of México 2000 Ballet Folklorico.
Tickets are $15 and $12 for seniors and children under 6. For tickets visit Mexico2000.net or call 214-364-2629. For more information email info@mexico2000.net. The production is located in the Brownlee Auditorium of the Granville Arts Center, located at 300 N. Fifth Street, Garland, TX 75040. Parking is free.