Garland Civic Theatre presents "Dracula The Musical"
Garland Civic Theatre presents "Dracula The Musical"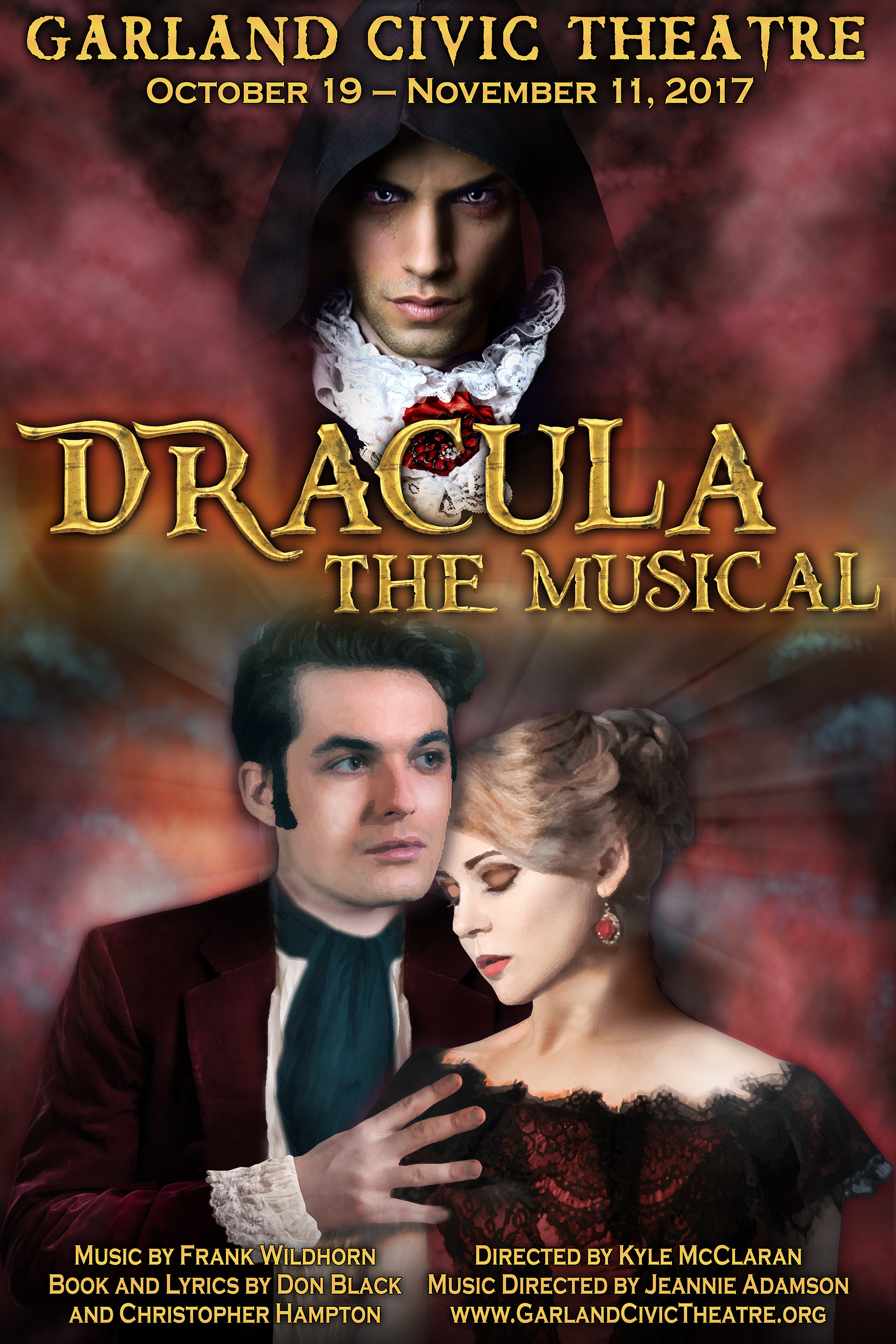 Join Garland Civic Theatre for our 50th Anniversary Season!  Garland Civic Theatre was founded in 1968 and is the oldest community theatre in Dallas County.  To celebrate, we are producing a spectacular season of theatre filled with mystery, laughter, music, and love. Garland Civic Theatre is proud to present "Dracula The Musical" as we continue our enchanting 50th Anniversary Season.  Drink deep… and live forever!  "Dracula" is a haunting and passionate new musical based on the world-famous novel by Bram Stoker.
"Dracula The Musical" is a thrilling drama of suspense and a Gothic romance of dreamlike temptation from the extraordinary team of Christopher Hampton, Don Black and Frank Wildhorn ("Jekyll & Hyde").  Set in Europe at the end of the Victorian Age, the story follows the famed vampire as he lusts for new blood.  Jonathan Harker and Mina Murray fall victim to Dracula's unnatural charm and, along with Doctor Van Helsing, must fight Dracula's supernatural powers.  "Dracula" will enthrall you with its powerful score as it brings the undead to life in this breathtaking musical of unrequited love.
The talented cast features Evan Figg as Jonathan Harker, Joshua Hensley as Count Dracula, Stephanie Hall-Roberston as Mina Murray, Brandy Nuttall as Renfield and Belladonna, Russell Sims as Dr. Jack Seward, Maya Ferrer as Lucy Westerna, Jacob Drum as Quincey Morris, Brian Hokanson as Arthur Holmwood, Timothy Turner-Parrish as Professor Van Helsing, Hannah Meagley as Lucretia, and Samantha Masucci as Pandora.  The production is directed and designed by Kyle McClaran, music directed by Jeannie Adamson, and stage managed by Brandy Nuttall.
Performances are Thursday, Oct. 19, through Saturday, Nov. 11, in the small theatre at the Granville Arts Center at 300 North Fifth Street in Garland. Performances include a Thursday night preview performance, Oct. 19, at 7:30 p.m., Friday and Saturday evenings at 8 p.m. and Sunday matinees, Oct. 29 and Nov. 5, at 2:30 p.m.
Tickets are available now!  Order online at
www.garlandartsboxoffice.com
or call the Granville Arts Center box office at 972-205-2790. Ticket prices range from $12 – $17. Discounts are available for KERA members and groups of 10 or more. Garland Civic Theatre 2017 – 2018 50th Anniversary Season is sponsored by the Garland Cultural Arts Commission. Please visit
www.garlandcivictheatre.org
or call 972-485-8884 for additional information.
---
---