Garland ISD December news
Garland ISD December news
South Garland auto body students gifted membership to scholarship, support network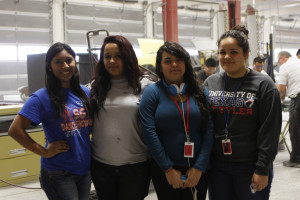 An interest in auto body and collision repair unexpectedly led five South Garland High School juniors to receive a wealth of support and resources. The quintet was recently awarded a free membership to auto industry-focused nonprofit organization 
Women's Industry Network
 (WIN).
The group was approached by WIN Board members Denise Caspersen and Petra Schroeder during the Collision Repair Education Foundation's Cars, Careers and Celebrities Expo, held earlier this fall.
"I was immediately impressed with the positive attitude that these young ladies displayed," Schroeder explained. "We had a great conversation. That was when I wanted to 'capture' them for WIN, providing all of us with opportunities to learn from each other."
Schroeder seized the moment by donating WIN student memberships to Ana Martinez, Annette Mayorga, Juana Morales, Marissa Ramirez and Jessica Santos.
"It felt great to receive a WIN membership and be recognized because we are young women," Morales said. "I feel that an organization like WIN can help women become interested in the automotive industry, build their confidence in a male-dominated field and motivate those who are already in it."
Knowing that a multitude of valuable sources would be within hand's reach, auto collision repair teacher Craig Baughman encouraged the group to attend the weekend expo.
"Every year we have more and more young women enter our Auto Collision Repair program," he said. "We are excited about the opportunity to have them invited to join the Women's Industry Network. I believe relationships which have the potential to develop will influence and encourage their lives more than words ever will."
Developing a working partnership with WIN is exactly what all five juniors wish to gain from this gift.
"I am looking forward to getting experience, mentorship and hopefully scholarships out of the membership," Morales said.
"I want to go to college, then the Army and in the end, work with cars," Martinez added. "With WIN and Mr. Baughman's help, now I know I have the opportunity to grow, get recognized and be supported [along the way]."
---
Charitable Watson MST students, teacher receive surprise from artist Josh Groban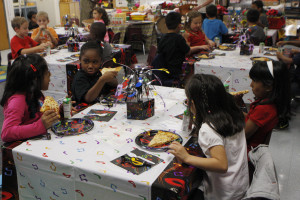 Twenty Watson Technology Center for Math & Science students received a special thank you for their hard work and generosity. In November, artist Josh Groban sponsored a pizza party for the first-graders as a gift for raising $1,000 for his
Find Your Light Foundation
 in the spring.
Kindergarten teacher Tammy Todd initiated the service project, called Cookies for Quarters, after hearing about Find Your Light, which helps fund art and music programs at public schools. Todd then met Groban's mother at his concert in Boston earlier this fall, where she gave Mrs. Groban a student-created book detailing the campaign.
"While at work one afternoon, I was called to the office for a very sweet surprise," Todd said. "Mrs. Groban was on the phone. She had taken time out of her very busy day to call and thank us for our service project. She and Josh were touched by it and wanted to do something for my class in return. Needless to say, I was shocked."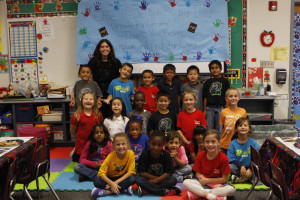 Groban arranged to have four Domino's cheese and pepperoni pizzas, vanilla ice cream cups and apple juice boxes delivered to Todd's classroom Nov.7. He also sent a 
personalized video
expressing his appreciation.
"Thank you so much for your amazingly generous donation to Find Your Light," Groban said in the filmed message. "You are just some of the coolest group of kids I have ever had the pleasure of being introduced to. All your money is going to a very special organization, a group called Harmony Project in Los Angeles."
After viewing a testimonial from a Harmony Project student, the Wildcats got to enjoy their savory and sweet treats in their former classroom. They also recognized Groban's kind gesture with another
thank you video
.
"The Groban family is one-of-a-kind, and our world needs more people like them in it. They are providing my kids with a memory they will never forget, and I can never thank them enough for that," Todd said.
Although the Grobans have already positively impacted Todd and her former class, she hopes this experience will inspire them for the rest of their lives.
"I think if you teach people when they are young that they can make a difference, they are going to go forth in the future and change our world," Todd commented. "And that is what we hope to do, to change the world for the better. I feel like we hopefully are on our way to doing that."
---
Parents, students, staff asked to take flu precautions
                                                                                                                                                                                                                                                            Flu activity is currently high throughout Dallas County.
Garland ISD asks its students, staff and parents to remember to wash their hands, cover their cough, avoid touching their face, and to stay away from other sick persons as much as possible.
It is extremely important to keep children at home if they have flu-like symptoms. Do not send them back to school until their fever has been gone for at least 24 hours without the help of anti-fever medicines.
If children show signs of severe illness, such as difficulty breathing, please seek emergency care.
For more information, view a letter from the Dallas County Department of Health and Human Services in 
English
 or 
Spanish
.
---
Elementary students design district's holiday greeting card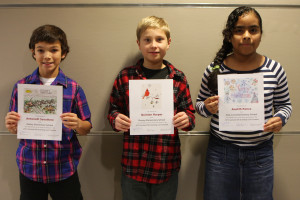 Garland ISD recently announced the winners of its annual Fifth Grade Greeting Card Contest, awarding three budding artists the chance to showcase their artwork on the district's holiday greeting card. Anneth Ponce of Park Crest Elementary School, Antonelli Savattere of Keeley Elementary School and Quinlan Harper of Dorsey Elementary School produced the winning designs of 2014.
This year, 40 entries considered the best of their respective campuses were submitted for district-level judging. The top three designs were then chosen to adorn correspondence sent from the Superintendent and Board of Trustees.
The winning fifth-graders were honored at GISD's Dec. 9 board meeting. All three received an Evidence of Excellence award in addition to 50 printed cards displaying their own creation.
The district joins forces with the PTA Council Board Arts in Education committee every year to host the Fifth Grade Greeting Card Contest, which kicks off in November. Students from all elementary schools are eligible to participate.