House Converted to Church
House Converted to Church
To make a long story short, we'll start with the fact that a young couple purchased the house at 920 W. Avenue D in Garland. Cole and Raven Henson are an interracial couple with three children who had moved to Garland from Rockwall. They held an Open House and announced that they would be operating a pregnancy center with a pro-life agenda, hoping to save the lives of the unborn. They would nurture the ladies with love and care during their pregnancies. They would operate as a non profit, requiring no charges for their services. It appears that neither Cole or Raven have had any professional medical training. They will depend on volunteers to assist them in their attempt to possibly prevent abortions. They will council with both men and women, married and unmarried, to achieve their mission.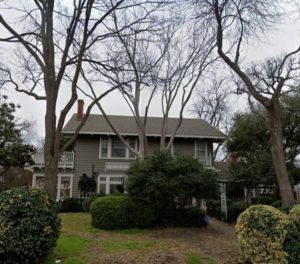 They would have to request a zoning change from the City of Garland in order to conduct a business in a residentially zoned area. They were confronted with adamant opposition by neighbors, and their request was denied. They retained the services of an attorney and were also supported by the encouragement of District 2 Councilwoman, Deborah Morris. Many meetings and discussions ensued. They were advised to meet with the opposing neighbors and resolve their dispute. That option apparently did not appeal to Cole and Raven Henson.
Instead, Cole Henson, an architect, decided to  become a minister and convert the property to a church.
Cole Henson went online and found a way to become an ordained pastor with the purchase of course involving only a few hours of study. The couple, with an attorney, returned to the Zoning and Planning Commission and requested a home conversion. Nothing existing in present city or state codes provides the City with an instrument to block the conversion. However, there are certain requirements if a structure is to be recognized as a church in accordance with Garland City Codes. The P & Z Commission recommended approval of the House Conversion, contingent upon a list of the 10 conditions. It was passed on to the City Council for a vote.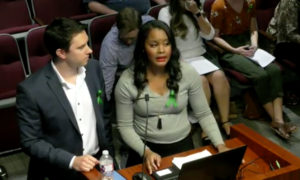 The City Council Meeting of Tuesday, November 19, 2019 began at 7p.m. and finally ended on November 20, just before 2 a.m.. The majority of the time was spent on discussion and presentation of the Henson's House Conversion. Having become an ordained minister, Cole Henson now had to make some adjustments to his home, if it were to come to a church. The Henson family would no longer be living in the house, since it was becoming a church. Instead, they would be living in the 756 square foot space on the second level of an out building. The soon to be anointed church would also serve as a pregnancy clinic. There was much discussion about sonograms, lab tests to detect STDs and other operational matters. There were many citizens in attendance who wished to speak on the House Conversion being proposed by the Henson's. Many were from Rockwall and in favor of the Hensons' proposal. There were also many local folks from the neighborhood who spoke against the Shiloh Pregnancy Center/Church. There was also much legal interjections by City Attorney Brad Neighbor, and Hensons' attorney, Jerry Bennett. There had been no precedent set for this type of dilemma in all of Garland's documented history. After all was said and done, there was apparently no legal way for the City to deny the request for the Henson Family House Conversion. With their hands tied, the Council voted 7 to 2 in favor of the House Conversion. Only Rich Aubin, Councilman for District 5 and Jim Bookout, Councilman for District 4 voted "no".
When all the papers have been signed, the Hensons will win a church and will be living in the parsonage at the rear of the property. Unless a future owner of that property wishes to convert it back to a residence, the house will remain a church and the garage will be a parsonage. Operating as a 501 C3 non profit, the Hensons will be tax exempt. The lovely old house at 920 W. Avenue D will now be church operating a pregnancy center owned by the Hanson Family.
Nancy Ghirla
Email: nghirla331@gmail.com