Jackie Feagin Day Declared
Jackie Feagin Day Declared

On October 21, 2014 Mayor Douglas Athas read a proclamation at the beginning of a City Council meeting declaring that date as "Jackie Feagin Day". Jackie and Joyce Feagin were present, surrounded by family and friends. The mayor invited the group up to the podium as he read the document aloud. The proclamation made reference to the many committees, organizations and City Council service Mr. Feagin had dedicated his time to on behalf of the City of Garland over the past half century. It was a long and impressive list and this recognition is well earned.
Several months ago Garland attorney Donna Harris asked me to consider planning a Jackie Feagin Day event, but was unsure of just when and where it should take place. Months passed until the subject arose once again and Harris decided we should consult with Mayor Athas to see if it would be possible to schedule the event to take place this fall. We settled on a date and began making plans. Harris wanted to host a reception following the presentation at City Hall and I chose to work with the staff at Poetry Place in downtown Garland.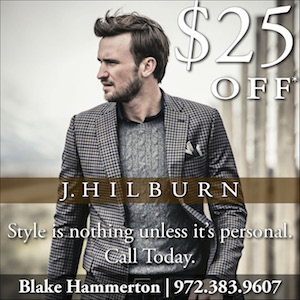 Although I knew of Jackie Feagin, and we had greeted one another at social events, I really didn't know him. Donna Harris had known Jackie and Joyce Feagin most of her life, as Jackie and her father, Fred Harris, had been close personal friends. Both were Garland businessmen, Harris owned and operated the Harris Restaurant and Feagin owned and operated Feagin Motors. Both men were active in city politics and served on the City Council. Jackie Feagin was instrumental in naming a park in honor of Fred Harris and that, says his daughter, was the proudest day of her father's life. Jackie Feagin continued to serve his city and community long after Harris' death, and had not been officially recognized in any way. We didn't have a building or a park to put his name on, but we did manage to get the name of the man sometimes known as "Mr. Garland" an official date on the calendar.
The reception at Poetry Place was attended by 80+ guests, consisting of Feagin family members and close friends. Former Mayors Spence and Jones were there, several current and past city council members and their spouses. Over the past several weeks I came to know Jackie and Joyce Feagin enough to know that they would favor an informal gathering, and that's how the reception was planned. I asked Garland artist Lucas Cervellini to draw a caricature of Jackie to become part of a T shirt design, and he did a great job. Jackie Feagin possesses an uncanny facility for remembering names and dates. Mention a name and Jackie will give the name of his or her school and the year they graduated. That's just one of several amazing revelations that came to light as I became better acquainted with the man.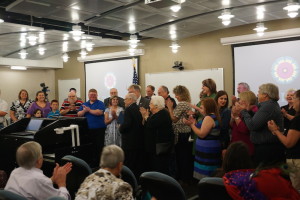 Jackie and Joyce Feagin have been married to each other for sixty years, and are the parents of 4 sons. The family has lived in the same house in Garland for 54 years and Feagin Motors has been a member of the Garland Chamber of Commerce for 53 years. Those numbers help to define a man who is dependable, committed, loyal, devoted to family and his community. Those who spoke at the reception made reference to those admirable qualities over and over again as they shared their experiences with and impressions of Jackie Feagin. Sons Larry, Jerry, Barry and Gary were in attendance, along with several of their 11 grandchildren and 6 great grandchildren.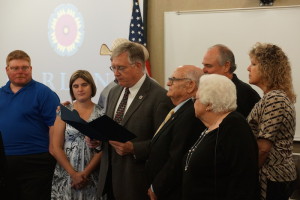 We learned that our 81 year old honoree is justifiably very proud of having piloted the B-36 bomber during his stint in the U.S. Air Force. His military career began shortly after Jackie and Joyce tied the knot; when he was 21 and she was just 18 years old. Feagin served during peace time and the couple remained stateside, moving from base to base. Having completed 3 years of active duty, he was discharged as 2nd Lieutenant Jackie Dee Feagin. He went on to serve in the Air Force reserves for another 11 years.
Donna Harris was the emcee for the reception, and Councilwoman Anita Goebel and Pat Olson provided the recorded music and slide show from the Feagin family album. Patty Granville performed as a special guest, singing "Hello Jackie" to music from Hello Dolly, and wrapped Feagin in a red feather boa. Jackie seemed quite delighted and joined in with a few dance moves of his own. Many other guests spoke to and of Jackie as Donna Harris led him around the room with a microphone.
Peggy Jones surprised and delighted all in attendance and Jackie in particular as she sang to him a capella as the mic was being passed around the room. Former Mayor Jim Spence told about his and Jackie's standing Wednesday lunch date at Wendy's. They always argue about whose turn it is to treat, and this has been going on for at least 10 years! Sons and granddaughters told of their loving relationships with Jackie and Joyce.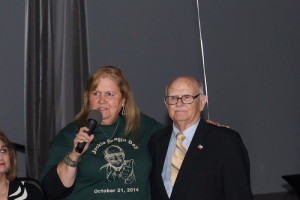 Marilynne Serie, executive director of the Achievement Center of Texas, serving special needs students, told of how Jackie encouraged her to work toward a building of their own and pitched the first shovel full of dirt at the groundbreaking. Serie also donated the Jackie Feagin Day T shirts that decorated the room when guests first arrived. David Riggs, president of the Garland Firefighters Association, praised the way Jackie had supported the firefighters when he served on the city council.
Jackie seemed to be enjoying himself greatly, and spoke at length when handed the microphone. At that time he must have been perspiring profusely, but he seemed just fine. About an hour later he collapsed into a chair, completely exhausted. He had eaten nothing, nor had he had anything to drink since the evening began back at City Hall.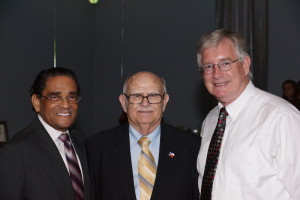 Peggy Jones, a trained nurse, began to fan him and took his pulse. She said he felt cold and clammy, and she knew he had a history of heart related problems. He remained slumped in a chair, though quite coherent and answering all questions. The decision was made to call 911 and let the paramedics decide what to do. Jackie remained slumped in the chair, still clutching the proclamation presented to him by the mayor a few hours earlier.
After checking his vital signs and learning of his medical history, the EMT's determined that Jackie should be transported to Garland Baylor Hospital. The party ended with Jackie being wheeled out to the waiting ambulance on a gurney with Joyce following close behind. It was a sad end to a lovely evening, but most of us were confident that Jackie would be just fine after a good rest.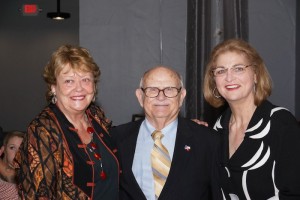 That theory was borne out after a two day stay and a battery of tests. There was no evidence of a heart attack or stroke, he was just plain worn out and dehydrated.
Learning about Jackie Feagin has been a labor of love, and I'd like to share my 3 favorite Feagin-isms:
Never missed a meeting!
Former Mayor Ronald Jones told us that Jackie scheduled his heart bypass surgery so that it he wouldn't miss a city council meeting. Two days after his surgery he was back, representing District 5 on the city council. During his 7 years of service on the council he never missed a single meeting.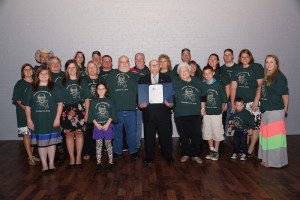 60th anniversary burgers
Donna Harris and I were sitting at the Feagins' kitchen table, having a gab session. The subject of their 60th wedding anniversary came up, and Donna asked, "Did you go anywhere special to celebrate your 60th anniversary"? Jackie and Joyce exchanged glances, and Jackie responded, "Yes,! We went to Whataburger!" Believe it or not, the staff at their favorite burger joint had even decorated the place with "diamonds".
Where should she stick the needle?
On the morning after he was admitted to the hospital, a nurse came to his bedside and asked, "What finger would you like me to prick for a blood sample?" Jackie replied, "Yours!"
Jackie's Scorecard – A poem by Nancy Ghirla
Jackie has numbers, and they tell his story,
One wife and four sons, struggle and glory.
He took Joyce as his bride at twenty one,
And their very long journey had just begun.

A B-36 pilot while in the Air Force
Joyce was a good military wife, of course!
Discharged from the military life they had led,
They settled in Garland, and away time sped!

At the same address for Fifty-four years,
While in auto sales, never shifting gears.
Committees, meetings and so much more;
Beauty pageants and ribbon cuttings galore.

Seven years on the council serving District 5
Known by colleagues for dedication and drive.
Spence, Day and Jones knew he'd be there;
At every council meeting he'd be in his chair.

He's "Mr. Garland" to many he's mentored;
Making heroes of others; never self-centered
Jackie amazes with names and dates of events
Putting HIS name on a day makes lots of sense!
Photos by Edd Holden