Join Garland Civic Theatre this holiday season for 'Cinderella – The Musical!'
Join Garland Civic Theatre this holiday season for 'Cinderella – The Musical!'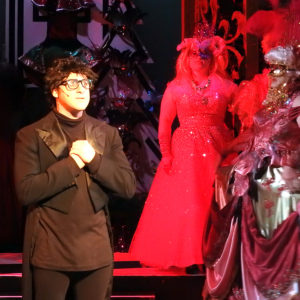 Garland Civic Theatre is proud to present "Cinderella – The Musical" with book by Joseph McDonough, music by Fitz Patton, and lyrics by David Kisor. "Cinderella" is a new, fast-paced musical take on the traditional tale that is fun for the whole family!  Prince Freddy has returned to his kingdom where his father wants him to choose a bride at the royal ball. Cinderella would rather stay home and read with her animal friends, but the Well-Wisher appears and urges Cinderella to go to the ball. Cinderella and the Prince dance, but she loses her red sneaker! Prince Freddy then tours the countryside to find the sneaker's rightful owner. Will Cinderella and Freddy find each other by learning to trust their hearts?
The talented cast features Josie Dehning as Cinderella, Evan Figg as Freddy/Socrates, Marilyn Twyman as The Queen/Gwendolyn, Sarah Floyd as Priscilla, Samantha Mansucci as Clarissa, David Phillips as Brunhilda, Alise Sefchick as Aristotle/Gaston, and Savannah McNeilas Plato/Lady of the Court. The production is directed and designed by Kyle McClaran. Music is directed by Kevin Sutton and choreography is by Abi Abel. The stage manager is Katie Ussery.
Performances are Friday, Nov. 25, through Saturday, Dec. 17, in the small theatre at the Granville Arts Center at 300 North Fifth Street in Garland. Performances include a Thursday night special performance Dec. 1 at 7:30 p.m., Friday and Saturday evenings at 8 p.m. and Sunday matinees Nov. 27 and Dec. 11 at 2:30 p.m.
Tickets are available now! Order online at www.garlandartsboxoffice.com or call the Granville Arts Center box office at 972-205-2790. Ticket prices range from $17 – $27. Discounts are available for KERA members and groups of 10 or more. Garland Civic Theatre 2016 – 2017 season sponsors include the Garland Cultural Arts Commission. Please visit www.garlandcivictheatre.org or call 972-485-8884 for additional information.