Last Chance To See Agatha Christie Play At Garland Civic Theatre
Last Chance To See Agatha Christie Play At Garland Civic Theatre
Garland, Texas, September 21, 2015 — Agatha Christie's "Spider's Web" will close this weekend at Garland Civic Theatre. Remaining performances are Friday, September 25th and Saturday, September 26th at the Granville Arts Center, 300 North 5th Street in downtown Garland. Call the Arts Center Box Office at 972-205-2790 for tickets or order them online at www.garlandartsboxoffice.com. All tickets are $22 which includes service fee. There are discounts available for KERA members and groups of 10 or more.  Friday and Saturday evening performances s are at 8 p.m.
The director for the production is GCT's Artistic Director, Kyle McClaran. His cast includes Trey Albright as Jeremy Warrender, Emily Burgardt as Clarissa Hailsham-Brown, Michael David as Oliver Costello, Tammy Partanen as Elgin, Severt Philleo as Sir Roland Delahaye, Heather Smothers as Mildred Peake,  Tucker Souther as Henry Hailsham-Brown, Kevin Sutton as Hugo Birch, Cate Stuart as Pippa Hailsham-Brown, and Timothy Turner-Parrish as Inspector Lord.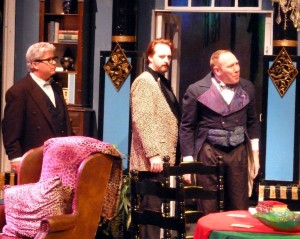 Clarissa, the second wife of Henry Hailsham-Brown, is adept at spinning tales of adventure for their bored diplomatic circle. When a murder takes place in her drawing room, she finds live drama much harder with which to cope, especially as she suspects the murderer might be her young stepdaughter, Pippa. Worse still, the victim is the man who broke up Henry's first marriage. Clarissa's fast talking places her in some hair-raising experiences as she comes to learn that facts are more terrifying than fiction. "Spider's Web" is brilliantly woven with thrills and comedy bursting from every dark corner!
Season sponsors include Garland Cultural Arts Commission and The Dallas Morning News. Underwriters include Linda Braga and Garland Power and Light. Visit the GCT website at www.garlandcivictheatre.org or call 972-485-8884 for additional information.