Where Was Santa This Week?
Where Was Santa This Week?
It's a magical night for little tykes, with the lighting of the Christmas tree followed by fireworks and the much anticipated arrival of Santa Claus. In years past, Santa made his entrance using various modes of transportation, including a horse drawn sleigh and helicopter. This year we were told he arrived by shoe leather; that's right, he walked onto the scene as hundreds of children lined up , anxiously waiting to recite their Christmas wish list.
We were there, but we never caught a glimpse of the man in the red suit! We counted down as the tree was lit and the lights moved to music. We watched as the choirs took the stage and performed for an audience largely made up of parents. We saw the fire engine parked over on Sixth Street and we were astonished at the dark and empty storefronts surrounding the downtown square on the busiest night of the year.
There was a machine cranking out snow that melted quickly in our mild North Texas weather. The slush was being used to lubricate the snow slide while a long line of kids waited their turn to plunge down the slippery slope. The slide was over on Main Street, near Baker's Furniture store, which was open for business, as was the Generator Coffee House on Sixth and the Rowlett Florist on State Street. All other storefronts seemed to be dark. We worked our way through the vendor lines, and entered into 507 State Street, curiously labeled "Food Truck Loft" only to find ourselves outside again! The burned out store that had been condemned and boarded up for more than a decade has no roof or rear wall. An arched brick wall divides the rustic space, and just beyond it, a food truck was serving customers. We took a seat at a table and enjoyed the music of the Gypsy Playboys. We also sampled complimentary flavored popcorn from Rodeo City Popcorn and sodas from Intrinsic Brewing. This was a more orderly environment, with a crowd made up mainly of adults who had been drawn in by the music and holiday lighting.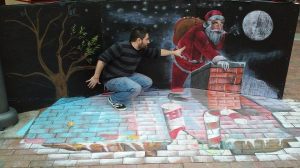 Strolling outside and looking across at the square, we noticed the line-up along the front of the Garland Civic Theatre Building. It was obvious that it was the crowd waiting to see Santa, and since they were facing State Street, he was probably positioned somewhere around the corner. Though it was very dark, with no light at all, there were family groups posing for pictures in front of the 3D Santa scene created by Garland artist Lucas Cervellini. It was a chalk drawing the artist had labored over for 2 days, all but lost in the darkness. The entire event could have used more light, as it was also very dark in the streets and vendor areas. There were parents with baby strollers darting in every direction, apparently trying to find our elusive Santa. There may have been some electrical issues, as the Christmas tree lights flickered on and off, as did the lights in the trees surrounding the square. It's ironic that a city that owns its own utility company would have a scarcity of lighting!
On our way back to the car we passed the ice sculpture and stopped to take a photo. We walked on past another photo op for folks who wanted to pose with costumed characters from the Disney movie, "Frozen". It was about 8:30 and the fire engine was still parked on Sixth near the corner of Main Street. Firefighter and department information officer, Merrill Balanciere, was passing out the last remaining 2014 Firefighter calendars. It had been a major charity fundraiser for the department and Merrill was featured as Mr. December 2014. We were disappointed to learn that there will be no 2015 calendar published.
We stopped to chat with Linda Burleigh, artist and owner of "Paint a Party" on Main Street. Linda told us she had found it very worthwhile to remain open for the evening, having good sales and Paint Party bookings.
Christmas on the Square is downtown Garland's premier event. It is definitely a family memory maker! It doesn't cost a lot of money because parking is free and there are not admission charges. It's the City of Garland's Christmas Gift to and for its citizens. And we at the Garland/Rowlett Messenger were very pleased to be a part of it.