Squash and Orzo Salad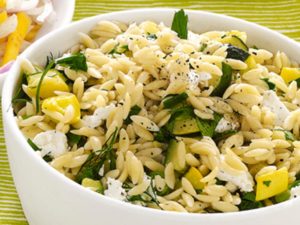 INGREDIENTS:
1 butternut squash small, peeled, seeds removed, and cut into 1 inch cubes
1/2 purple onion sliced
3 cloves garlic
1 tbsp olive oil
salt and pepper to taste
1 cup orzo pasta
4 cups water
2 cups fresh spinach chopped
3/4 cup Goat Cheese
olive oil Drizzle
INSTRUCTIONS:
Preheat oven to 400 degrees F. Line a baking sheet with foil. Place butternut squash cubes, red onion slices, and garlic cloves on prepared baking sheet and drizzle with olive oil. Season with salt and pepper and gently toss. Place in the oven and roast for 40-50 minutes, or until squash is tender. Make sure you stir once or twice while the squash is roasting.
While the butternut squash is roasting, cook the orzo pasta. Bring water to a boil and stir in orzo. Cook for about 10-12 minutes or until orzo is tender. Drain the orzo and put it in a medium bowl.
Chop the roasted garlic and red onions. Add the roasted butternut squash, garlic, and onions to the orzo. Stir in spinach and goat cheese. Drizzle with olive oil and season with salt and pepper. Stir once more. Serve warm or at room temperature.