The Top 7 American Cruises to Take in Your Lifetime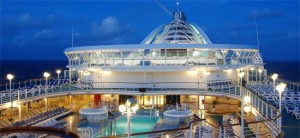 It seems like every few minutes we see another commercial on TV, advertising how magnificent one particular cruise line is. There's a lot of truth to that. Cruises are a wonderful way to get away and not have to worry about any of the other headaches. You get all the amenities of a resort with the addition of multiple restaurants, activities, pools, nightlife, and an ever changing view from the balcony. It's no wonder cruises never seem to decline in popularity!
Here are seven American cruises to take in your lifetime:
Hawaiian Islands: Every Saturday, Norwegian Cruise Line's Pride of America sets sail from the Honolulu harbor to visit both sides of the Big Island, overnight in Maui and Kauai, then returns to Oahu. She's the only ship to sail this itinerary, giving you a full week in America's Paradise! Why waste time island-hopping when you can sail at night and wake up to a breathtaking new tropical adventure every day?
Alaska: Many cruise ships sail up and down the coast from Seattle, San Francisco, or Vancouver from about mid-May through mid-September. A cruise is a great way to experience America's majestic mountains and glaciers, stunning wildlife, and fun historic port towns. Many itineraries feature the option to add land adventures too, including lodge stays in spectacular Denali National Park!
New England and Canada: There are many cruise choices in this area, from short getaways out of New York to two-week adventures that sail all the way from Montreal to Ft. Lauderdale. These are excellent summer and fall vacations for great weather, incredible scenery, and historic coastal towns. To snag a balcony cabin during peak fall-color weeks you'll want to book well in advance.
California Coast: Most of these cruises are 7-nighters that begin in Los Angeles and stop in places like Ensenada, Mexico; San Diego, Santa Barbara, and San Francisco (as well as few others on some itineraries). Forget about all that driving and let a cruise ship captain take you to all the best West Coast destinations, including the wine regions!
River Cruises: Did you know there's a brand-new paddle-wheel steamship on the Columbia River? She's the American Empress, sister to the American Queen that sails the Mississippi River. You might feel like a pioneer, but your luxury experience will be anything but rustic! Get back to America's roots on one of these peaceful, scenic journeys.
Florida and the Bahamas: Some cruise ports like New York City and Baltimore launch ships in the winter that visit places such as Cape Canaveral, Nassau, private islands in the Bahamas, Miami, and Key West. If you haven't been to Miami Beach or Key West, you've missed some unique Americana – a cruise is a fun and easy way to go!
Puerto Rico and the US Virgin Islands: You can sail to more southerly Caribbean islands out of San Juan; or cruise from one of the Florida cruise ports where many itineraries catch both San Juan and St. Thomas, along with other island countries. Get to know our tropical American Territories!
These cruises will show you gorgeous parts of US territories, leaving you with only one choice to make: which one should you do first? That's another article altogether.
Bon voyage!