Tornadoes Bring Out the Heroes
Tornadoes Bring Out the Heroes
---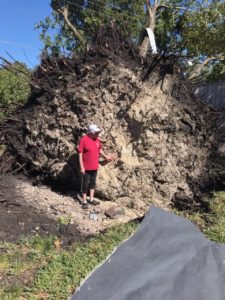 It was after dark on the evening of Sunday, October 20 when the eerie sound of warning sirens could be heard throughout the area. We had been hit by heavy thunderstorms and there were tornadoes reported and presumably approaching. The sirens were telling us to take cover immediately. The weather maps being broadcasted on TV showed tornadic activity all around us. In Garland ground Zero, we were told, was on Shiloh Road. We wouldn't know the exact location and extent of damage until daybreak. 
According to morning reports as many as 9 tornadoes tore through  the greater DFW area. The most severe damage in Garland seemed to be the area surrounding Shiloh Road and Mockingbird. It was either an EF 2 or EF 3 (it was reported both ways) that tore off roofs, uprooted trees, and sent pieces of a newly constructed warehouse through the nearby residential area, impaling structures like pieces of shrapnel. It's miraculous that no lives were lost, and no serious injuries incurred. Roads were impassable and folks were stranded.
The next morning we noticed facebook postings by our former Mayor, Lori Barnett Dodson. She was coordinating and dispatching workers and equipment for tornado cleanup. She was on the job throughout the cleanup process, which had occurred in her neighborhood located in City Council District 6, which Dodson served as representative for 6 years. Since she was there leading the charge, we asked Dodson to give us a rundown on activities as she witnessed them. She agreed and also wanted to acknowledge the many donations of time and resources required for the recovery.
Nancy Ghirla
---
Tornado Cleanup
By Lori Barnett Dodson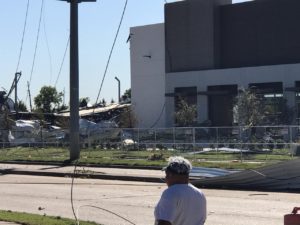 A little after 9 PM on Sunday October 20, 2019 an EF2 tornado with maximum winds of 135 mile per hour struck in southwest Garland. The tornado hit 222 residential and commercial structures, leaving at least 37 with major damage and five destroyed. Almost immediately after the storm passed amazing things began to occur. Citizen volunteers appeared, equipped with chainsaws, rakes and brooms and began clearing Murray Street of downed trees that had been blocking homes and the road.  Beyond amazing is that those volunteers showed up without being asked!  They worked through the night until 3:00 AM. Their only light was provided by lights from a police car. (see video) At that time work was halted because a second line of storms with heavy rain and wind presented safety concerns in the tornado impacted zone. Miraculously, most of this group showed up day after day to help.
According to area residents, volunteer citizens and City of Garland workers were noticeably present in the neighborhoods within minutes.  The four departments repeatedly mentioned by the residents included the Fire Department, Police Department, Garland Power & Light, and Environmental Waste, assisted by Streets Department.
Jim Olk, Building Official with Garland Building department drove through the neighborhoods about an hour after the tornado struck to perform a "window assessment" of the structural damages.  First thing Monday October 21st building inspectors commenced actual damage assessments and completed approximately 90% of the Rapid Safety Evaluations that day.  The remaining evaluations were completed on Tuesday October 22nd.
Also beginning on Monday October 21st, and continuing almost nonstop through Saturday November 2nd food, snacks, and drinks were made available at no cost for residents, volunteers and city employees.  Monday and Tuesday Lavon Drive Baptist Church set up at Williams Elementary and cooked hamburgers and hot dogs for anybody in need, not only were they quick to respond but they brought everything needed to take care of feeding the masses.  Other donations poured in from groups including Springcreek Community Church, food pantries; 5 Loaves Pantry and Good Samaritans of Garland. There were donations from several restaurants including Chips and Salsa, Chicken Express, Dos Banderas, Millhouse Pizzeria, and The Crawfish Block. Thank you also to Chef Dale Granger caterers, Prestige Ford, Walmart Neighborhood Market, and Winco Foods. Donations also arrived citizens from across the city and surrounding areas. To help provide additional relief Garland Power and Light provided trailers with air-conditioning and facilities with ice, bottled water and cell phone charging stations.
Other offers to assist if needed or the donations of supplies for cleanup came from Farmers Insurance agent Julian Gabriel Olalde, Home Depot, Garland Heating and Air, Jerry Reynolds, Ken Bonham,  and Orchard Hills Neighborhood Association. The volunteer cleanup efforts continued for about two weeks.  The Texas Baptist Men's group arrived with equipment and expertise to tackle big, tall trees and roof tarping among other work. Volunteers from city government included Garland Mayor Scott LeMay, Mayor Pro Tem Robert John Smith, District 2 Council Member Deborah Snyder Morris, and District 5 Council Member Rich Aubin and employees from Code Compliance led by Oswaldo Rodriguez, Omar Aranda, Lily Gama, Mryna Guiterrez, Sal Haq, Alan Locket, Hung Pham.  Volunteers utilized tables and chairs from the office of Neighborhood Vitality's Block Party trailer delivered and set up by Scott Bollinger, Neighborhood Resources Manager and Laura Castillo, Neighborhood Vitality Coordinator.
A few data points from the storm include:
At peak, 5,500 Garland Power & Light customers were without power. Responding GP&L crews found broken poles and downed wire on two transmission lines with distribution underbuild. A substation and overhead distribution lines in neighborhoods were also impacted.  GP&L crews, with assistance from the City of Farmersville crew, two Denton Municipal Electric crews, and contractor crews, replaced broken poles, pulled new wire and installed transformers. Power was restored to the customers who could safely receive service by 5 p.m. Wednesday. 
To date Environmental Waste has removed approximately 1,600 tons of debris from the impacted neighborhoods
Comments from residents in the impacted area were always quite similar. Many expressed they had no idea where to even begin with recovery efforts but luckily people just showed up and started cleaning and removing debris which was exactly what they needed at that time. 
Garland tornado damage was rarely mentioned on local news channels. This was irritating at first but then we realized Garland was not mentioned because the news was unaware of the damage in the area. That might sound bad but it was because of Garland's immediate response by all the wonderful volunteers individuals, churches, businesses, and City Departments.
All though they deserve a lot of credit for quick clean up in the impacted areas I have not attempted to name all the individual volunteers for fear of missing anybody that helped.  I am trying to collect all of the individual names so if you assisted please let me know what you helped with food serving, chainsaw work, hauling debris to the curbs, etc., at 
llbd63@gmail.com.
Thanks LBD
Images: Lori Barnett Dodson
Videos: Jason Collard and City of Garland