Are Good Samaritans Good Neighbors?
Are Good Samaritans Good Neighbors?
Good Samaritans of Garland, Inc. is probably Garland's most popular charity, as most of us are all onboard when it comes to feeding the hungry. Pam Swendig, Good Sam's Executive Director, has done a great job at growing the operation. For most of its existence Good Sam has functioned as a food pantry for food challenged Garland residents. In recent years Good Sam has opened up its pantry to all who come, whether or not they live in our city. We are told many Good Sam clients arrive by DART. As the number of clients has expanded, so has the amount of donations and grants, due to Swendig's resourcefulness.
Over the past two years a dramatic change in operations and purpose has taken place. The little house that has been the Good Sam headquarters and food pantry has also permitted a number of homeless people to take up residence on the property. A portable toilet facility was placed at the rear of the property and a truck with showers for the homeless group was scheduled on a regular basis. Visits by a Parkland mobile unit were also arranged, and all this is very admirable, except for three reasons: location, location, location.
The fact that Good Sam provides food assistance to hundreds of families is an undebatable fact, and the number grew substantially due to the pandemic. Thanks to the team of devoted volunteers, working under the supervision of Vicki Tumulty, the individual responsible for day to day operations. Donations apparently kept up with demand, even though they were in financial recovery mode, following an embezzlement. A trusted bookkeeper allegedly absconded with around $175,000 during 2018 and 2019. Charges were filed with the authorities, and life moved on. In the aftermath Teria Bradford stepped up to assist with fundraising, and Lori Dodson, CPA, was brought aboard to straighten out the bookkeeping mess. The Chairman of the Good Sam Board was replaced with Russell Duckworth.
By 2021 Good Sam had obviously outgrown their premises. Supplies are being warehoused in off site facilities, and the homeless "guests" are overflowing the premises, causing problems in the neighborhood. Calls by troubled neighbors to the Garland Police Department have multiplied over 400%. Councilwoman Deborah Morris was also receiving numerous complaints. At a May 4, 2021 zoom meeting of the Garland City Council, Good Sam appealed to the Council for a waiver of the existing zoning regulations to enable an expansion of their current facility. After the Council had listened to the Good Sam proposal and the objecting speakers, Councilwoman Morris suggested the Council vote on a compromise. One thing had been made perfectly clear, and that was that Good Samaritans of Garland, Inc. could not continue to operate as they were at that location.
Executive Director Pam Swendig appears to have a strong emotional attachment to Good Sam's present location, as expressed to her colleagues. Aware of the obstacle they faced, seven very well connected and highly respected individuals formed a Relocation Committee shortly after the May 4 Council Meeting. One of the requirements set forth for the committee was that the new location be near a DART station. Several weeks later the group had pinpointed two possible locations. One was right across from the DART station on Forest Lane. The committee presented that location to the Board, and it was met with enthusiasm, as Board Chairman Russell Duckworth asked, "What will it take to get the property under contract?" An architect offered his services free of charge, and the project seemed to be moving along.
Chairman Duckworth called a special meeting of the Board on June 29, and the Building Relocation Committee was prepared to report on what it would take to get the site under contract. There was some confusion as to the purpose of the meeting, but requested reports were presented. What happened next was a shock to those in attendance, or at least so it seemed. Chairman Duckworth, casting aside any form of parliamentary procedure, summarily disbanded the Building Relocation Committee. Executive Director Pam Swendig supposedly visited the site and expressed her dissatisfaction with it. Anyone familiar with the situation should have expected that response. That was apparently the end of any relocation considerations.
With all that relocation business taking place in the background, the day to day operations of Good Samaritans of Garland, Inc. were apparently perking along. Hungry folks were provided much needed food and the unhoused were given at least partial shelter and basic necessities. Personal care packets were assembled and distributed daily, as were food items in bags. Unfortunately, those handouts resulted in a garbage and littering problem. The house with all the colorful picnic tables in its front lawn at 214 N. Twelfth Street, while doing good and compassionate work, was also creating problems with its neighbors. The problem with its location is obvious.
Back in 2014 Jim Griffin hired Pam Swendig to replace himself as Executive Director of Good Sam. Over the past seven years she has met several challenges, including the pandemic. As the number of food insecure people in our community has grown, so has Good Sam, and the pantry has provided. The number of homeless, or "unhoused", as Swendig refers to them, has also grown. It seems that Good Sam can no longer serve its growing number of clients from this location due to lack of space. Although Good Sam is open from 9:30 A.M. until 3:30 P.M. Monday through Friday, the unhoused folks gather in the area everyday at all hours. There have been dozens if not hundreds of alarming incidents resulting in calls to the Garland Police Department.
In late August Councilwoman Deborah Morris received three letters regarding a very frightening incident in which lives were threatened. The letters are from the owner of a nearby professional building, a dentist who is a tenant in that building, and the woman who was face to face with the homeless guy who was threatening to kill her and everyone else in the office. Since each of the letters tell the story from a different perspective, we are publishing all three in their entirety. Keep in mind that there are many other complaints involving many other incidents, including a petition or two.
We recently reached out to Lori Dodson and Russell Duckworth for updates.  We were surprised to learn that she had resigned, and is no longer the accountant for Good Sam. She was also a member of the now disbanded Building Relocation Committee, which seems to have been just tokenism, in retrospect. Mr. Duckworth did not respond to our messages. She was pleased to share that due to great fundraising efforts, Good Sam is expecting to reach about $800,000 in donations and grants this year. This bodes well for the future efforts of Good Samaritans of Garland, Inc.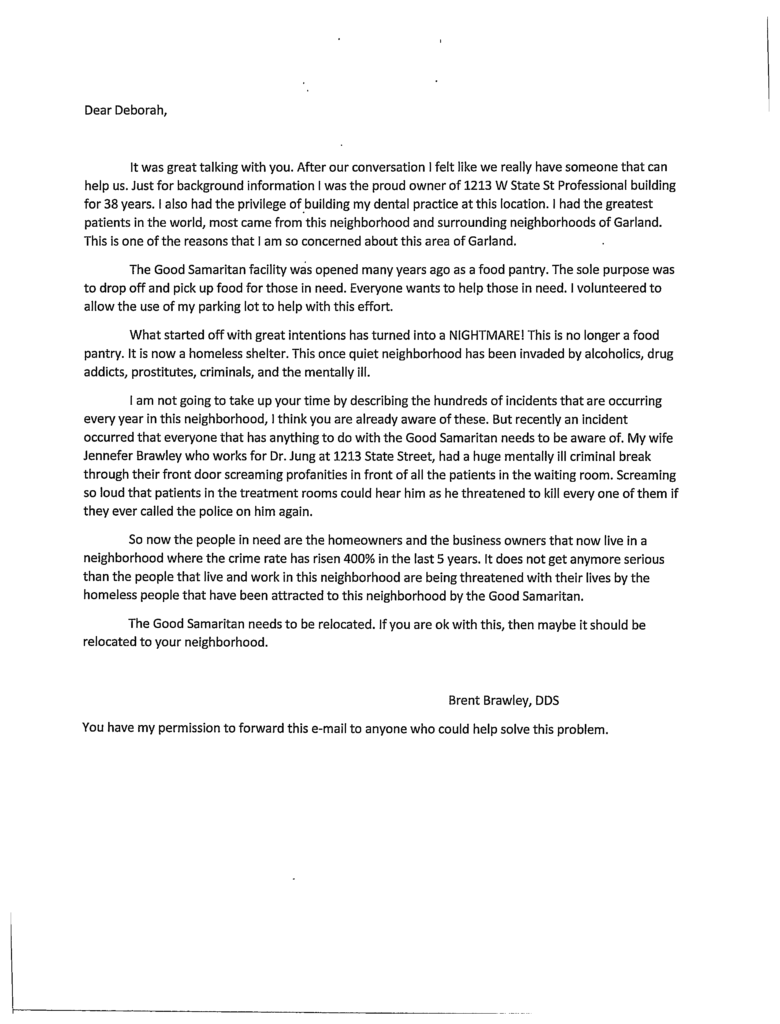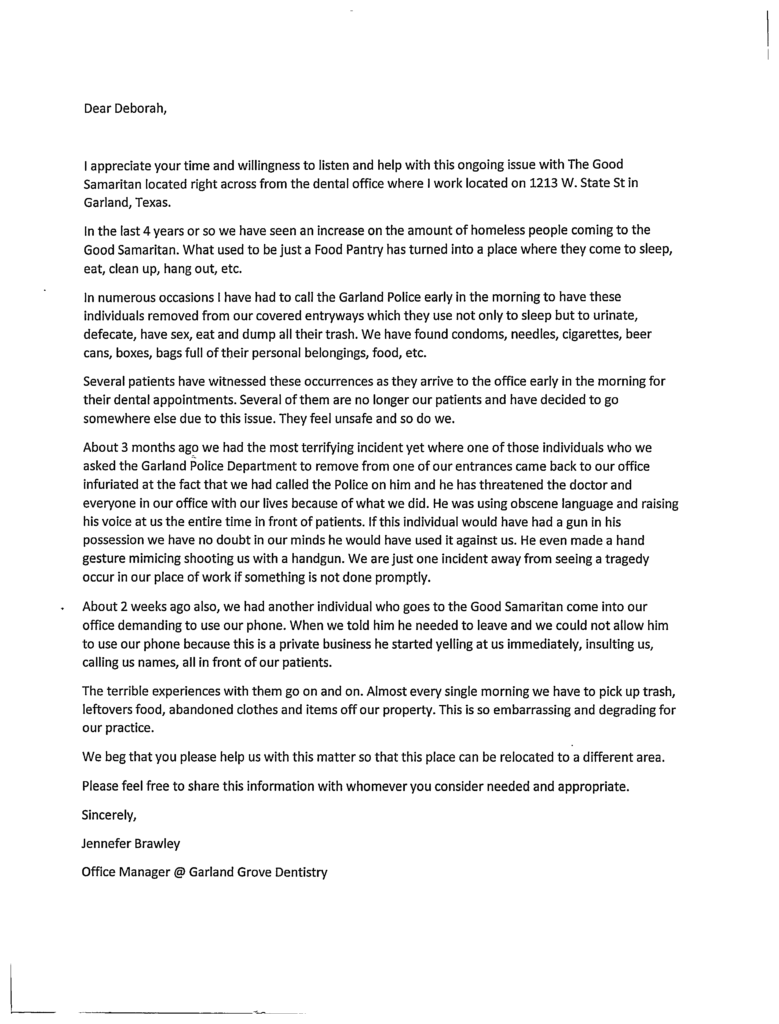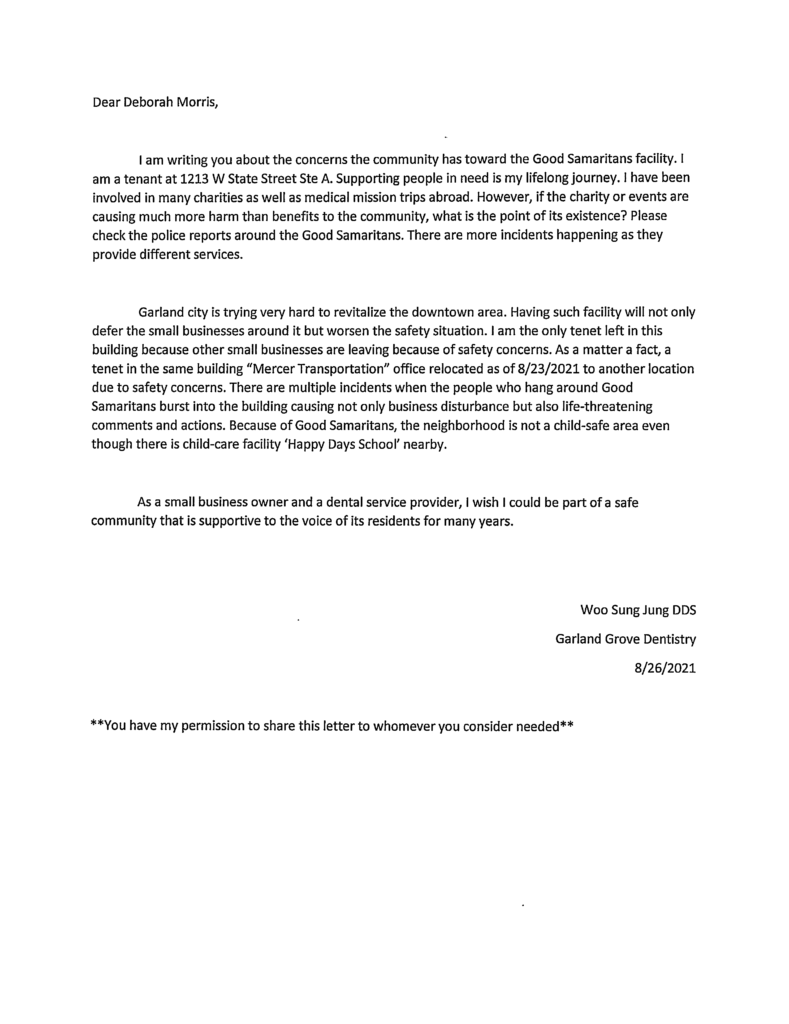 Nancy Ghirla
Email: [email protected]