Congratulations Doug Williams
Congratulations Doug Williams
On Your On-Stage Debut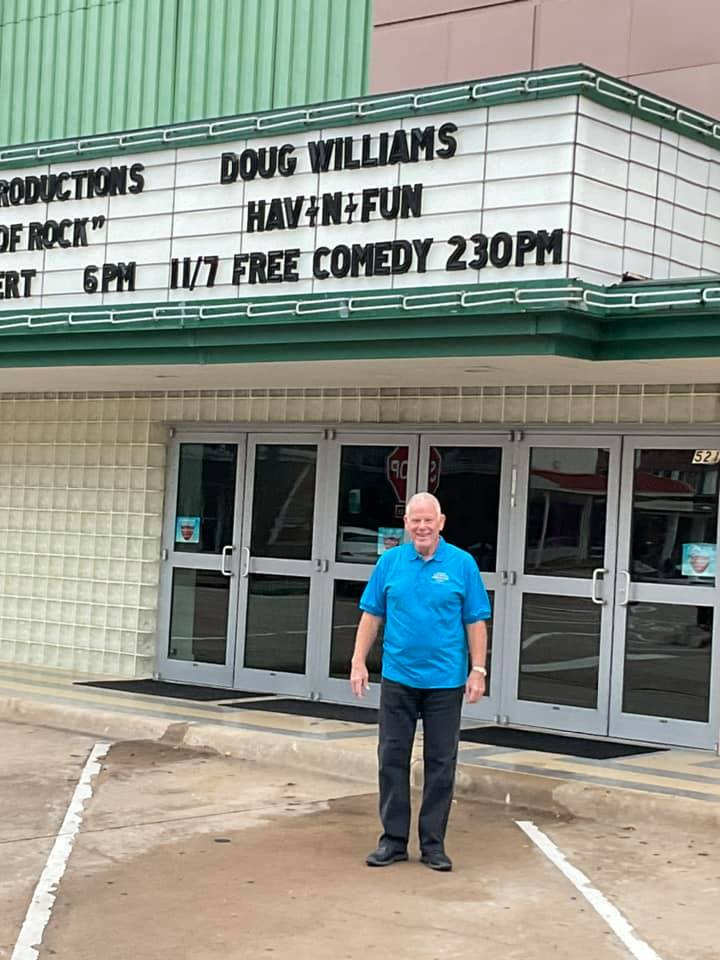 On Sunday, November 7 we attended a show at the Plaza Theater in Downtown Garland. A local plumber by the name of Doug Williams was going to be doing a stand up comedy routine. This had been something he had dreamed of doing all his life. Now reaching retirement age, he was taking the first step toward making that dream come true.
By the time we had taken our seats we were already way ahead of the game. We had been given free admission, free T shirts, and were holding free tickets that had been handed out for door prizes.
During his many years of service to the community as a plumber, Doug also served on the Garland City Council and is currently serving as a Plan Commissioner. When Doug danced out onto the stage he immediately became likable. He took his place behind a lectern, and I guess that's where the "stand up" part of the title comes into play. Now for the "comedian" part. Doug imparted several incidents where his work as a plumber put him in humorous circumstances. Having crawled under a pier and beam house he came eye to eye with a boa constrictor. Another time he was installing a garbage disposal, believing he was alone in the house. A parrot, mimicking a human voice, called out, "I'll get that", when the phone rang, causing him to bump his head. Every so often a child in the audience would be called up onto the stage to draw a ticket for a door prize. Doug definitely had a rapport with the kids, and the prizes were pretty nice.
Doug definitely plans to work as a stand up comedian when he retires, and has someone working as an agent to get him gigs. Having witnessed his first ever stage performance, I would describe Doug more as a "homey humorist", a Mr. Rogers type guy, who wants to make people laugh and everyday to be sunny. He wants to spread happiness, and the stand up comedians of our day spread everything but. Congratulations on having the courage to step outside the box, put down the wrench, and follow your dreams.
Nancy Ghirla