Auction Donations to Preserve history
Auction Donations to Preserve history
---
Save the date: Saturday, November 5…10 am until 2 pm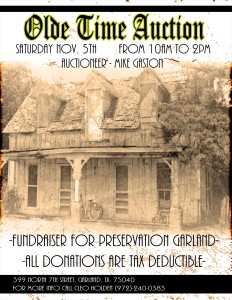 How did folks in this area live in the 1870's? The answer dwells within the Tinsley/Lyles House.It is the goal of Preservation Garland, Inc., a non(profit organization to show us just how life was back in the day.
They were instrumental in saving the Pace House and the tinsley/Lyles House from demolition when Heritage Park was swept away to make room for an apartment complex. The Pace House was given to Louis and Kay Moore, and they had it moved to a vacant lot they owned on Eleventh Street. The Moores paid for the move and a foundation. The Pace House is now a private residence being leased to a tenant by the Moores. The Tinsley.Lyles House was moved to a foundation paid for by the City along the DART tracks behind the Nicholson Central Library on Austin Street. The house is positioned next to the old Pullman railcar and the little Landmark Museum housed in the historic Santa Fe Depot. That area, with the  historic structures, has been given the title of Heritage Crossing.
Now that the historic house, an example of the typical prairie home, Ca 1870, has been placed in its permanent position, it becomes the responsibility of Preservation Garland to restore it and furnish it in accordance with the period it represents. PGI has agreed to restore the old building so that it can be used  as a living history lesson for future generations.
Restoration will begin with the front porch and continue on from there.
Now the fund raising must begin.
The first order of business is to collect the items to be auctioned by Mike Gaston, a professional auctioneer. The action will take place on the grounds of the Tinsley.Lyles House located at heritage Crossing, with a street address of 399 N. Seventh Street in Garland.
Also participating in the Olde Time Auction, will be Altrusa International. That local organization, whose mission is to promote literacy, will be conducting an old fashioned bake sale.
To arrange for pick – up of donated items to be auctioned please call PGI President Cleo Holden @ 972-240-0383.
---