Downtown Garland Project Underway
Barricades and Bulldozers
Downtown Garland Project Underway
Barricades and Bulldozers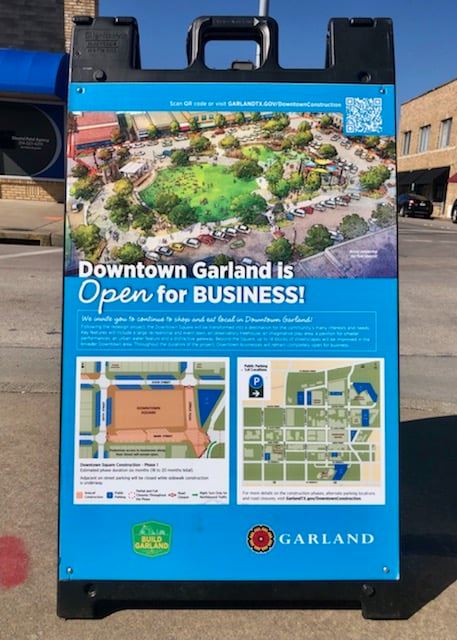 Don't let the barricades keep you from visiting a business located on Main Street between Fifth
and Sixth Streets. Traffic is completely blocked at Fifth and Sixth. For rear access there is a
newly paved, pristine alleyway behind those stores, and parking behind the Foundry Church,
the former power plant.
Frocksy, a unique boutique, the Jimmy Wallace Guitar Studio, Castillo's Original Barber
Shop, Main Street Deli, Baker's Main Street Furniture, and Momentum Tattoo Studio are all
open for business as usual. Parking on the streets is available on Sixth and on Main, beyond
the barricades, just a short walk to any of those businesses. Of course, all this is subject to
change as the project moves along.
On Sixth Street, looking out onto the tarp enclosed square, is a new business planning its grand
opening. Studio 1514, a lovely upscale beauty salon, is now ready for business. It is located at
113 N. Sixth in the renovated building that once housed McGillicuddy's Antiques. The entire
building was gutted, but the historic shell remains intact.