First-Year Art Classes Spark More Than Just Creativity
First-Year Art Classes Spark More Than Just Creativity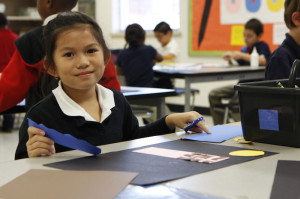 Approximately 6,000 Garland ISD elementary students are now discovering the impact of art education thanks to a district initiative launched this year. Back, Carver, Cooper, Herfurth, Luna, Northlake, Park Crest, Shugart, Southgate and Steadham, as well as Beaver Technology Center for Math and Science, are the first group of 41 elementaries to implement a dedicated art class—something these campuses did not previously offer.
"I was thrilled when Back Elementary was chosen to have art this year," said Back Elementary School Principal Teresa McCutcheon. "I knew the experiences it would provide our students would be invaluable. Art classes give our students another approach to learning that may activate their imaginations and ignite their interests."
Enlightening students is exactly why the district established a mission to bring art education back into elementary schools.
"We have students whose passion is the visual arts," said Superintendent Bob Morrison. "Our job as educators is to open doors to students. I think the more opportunities we provide, the more engaged they become in school, which results in better learning."
Cooper Elementary School's new art teacher, Usha Cottrell, came to GISD after an eight-year career at Dallas ISD. She is excited to be one of the first to expose young students to art and the benefits they will receive from the subject.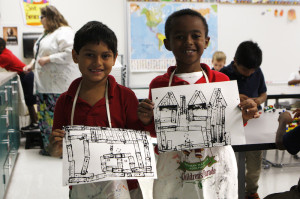 "I am elated to be here and to be part of this process," Cottrell explained. "We want to provide the foundation for our students to becoming viable candidates in the current workforce and to be college ready. Art is an integral part of that process. Visual art has been proven to increase vocabulary, raise test scores and decrease achievement gaps between students of higher and lower socioeconomic status. I truly believe with the implementation of art education in all GISD elementary schools, we will witness students becoming more successful in their academic endeavors."
The district is not only focused on growing the fine arts program at the elementary level. The 2014 GISD bond referendum currently includes funding for expanded band, choir and orchestra accommodations at the secondary level.
Although just 11 campuses implemented art education this year, the district plans to introduce seven to eight new programs every year through 2018.
"We are on our way to establishing a strong program in every school," Cottrell stated. "Every student in GISD deserves the chance to experience art instruction."
And in a short matter of time, that magical opportunity will come to all.