Garland Returns to its Roots
Garland Returns to its Roots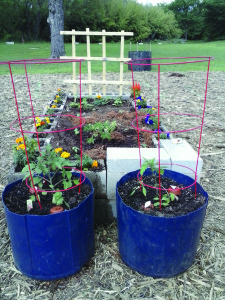 Cities all over the USA are returning to their agrarian roots and Garland is no exception. Gardens, we are learning, have many more benefits for communities than we may have realized. In fact, urban gardens can be a driving force for job creation and revitalization of local economies. At the USA mayors conference in June of last year the mayors passed a resolution that included supporting community gardens.
Mayor Athas said the City of Garland is able to provide parcels of land for urban gardens if groups are interested. Urban revitalization via urban farms is happening all over the USA. Under the leadership of Mayor Tom Barrett, Milwaukee is partnering with nonprofits and social entrepreneurs to give unused City-owned land a new lease on life as urban farms and orchards.
Planting at 4022 Naaman School Road began April 12, 2014. Our garden would not be possible without the generosity and collaborative efforts of Mayor Douglas Athas; City Manager Jim Dollar; and leaders from several of our City departments including Barry Swisher from our Parks and Recreation Department; Robert Ashcraft from our Water Department; Mark Dempsey, Assistant City Attorney; Anita Russelmann from the Planning Department; and Felisa Conner from the Office of Neighborhood Vitality to name just a few. It took a lot of people from our City government working behind the scenes to make the garden happen.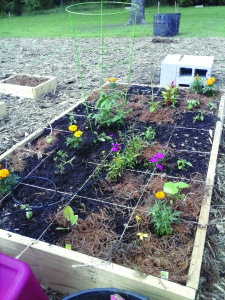 Loving Garland Green, a nonprofit organization here in Garland (www.lovinggarlandgreen.org) was licensed by the city to be the stewards of this 17, 000 square foot area, "The Garland Community Garden." Membership in Loving Garland Green is open to the public.
The Garland Community Garden is a sampler of different ways for growing food in an urban setting. We hope to encourage and enthuse Garland residents to install their own vegetable garden at their home.
Garden plots are assigned to Garland residents on a first-come, first-serve basis. All gardeners must agree to abide by the written rules for the garden. What will you see today at the Garland Community Garden?
Raised Beds
Successful urban gardens in Garland are usually some form of a raised bed filled with amended soil. Most plants do not thrive in the compacted clay soil typical to our North Texas area.
Container Gardens
Just about anything but a small child will grow well in a pot. Thus far, the Garland Community Garden has eight large containers now growing food—from stevia to tomatoes.
A Square Foot Garden
Mel Bartholomew developed this urban gardening format in 1982. These beds are divided into 12-inch squares for planting. The size of the plant at maturity determines the number of plants in a square. For example: one eggplant to a square, but sixteen carrots to a square.
A Concrete Block Garden
This four by eight foot raised bed is currently home to okra, zucchini, cucumbers, radishes, carrots, marigolds and petunias.
What else is coming soon to the Garland Community Garden?
A Keyhole Garden
The keyhole garden, a design for drought-stricken areas of Africa, is now cropping up all over the Southwest of the USA. Leon Smith of Keyhole farms in Clifton, Texas has donated a keyhole garden kit to Loving Garland Green. It will be installed at the Garland Community Garden on May 3 at 1PM.
Ruth Stout's Mulch Pile
Ruth Stout, also known as "the mulch queen" (1884 – 1980) is an American icon among organic gardeners. Ms. Stout, who marched with Carrie Nation, now serves as the patron saint for any lazy person who still wants to garden.
There are also other options in gardening including vertical garden systems, which we'll discuss next time! Urban gardens are important assets that keep people healthy and strengthen local economies. Local governments all over the United States are waking up to the importance of urban gardens and that includes the local government of Garland, Texas.
Elizabeth Berry is an urban gardener and current president of Loving Garland Green, a local nonprofit dedicated to increasing the number of urban gardens in Garland.