Garland Square Events Bring Life to Downtown
Garland Square Events Bring Life to Downtown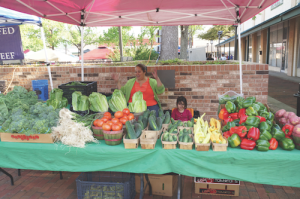 As Spring draws to a close and Summer begins, the historic Downtown Square comes to life. Every couple weeks, the Square becomes home to vendors and locals trying to introduce their products, services, and talents to the world. This past weekend was no exception.
The weather was perfect for strolling and browsing among the 40 vendors that lined the square. Live musical performances lent a festive touch to the event. Shoppers went home with fresh produce, plants, homemade preserves, local honey, handcrafted birdhouses, scented candles, and assorted novelties of all sorts.
Folks in the market for a new family pet could even find a dog to adopt at this five-hour event. Future marketplaces are scheduled to take place on the 3rd Saturday of each month. Come down to the square and check out what Garland has going on!