Garland Symphony Orchestra celebrates its 2016-2017 Season
Garland Symphony Orchestra celebrates its 2016-2017 Season
The Garland Symphony Orchestra celebrates its 2016-2017 Season, "Symphony Goes Wild!" at the Granville Arts Center, Brownlee Auditorium. The season continues on May 12, 2017 and all performances are at 8:00PM! 
Garland, TX; (April 25, 2017) Garland Symphony Orchestra continues its 2016-2017 Season, "Symphony Goes Wild!" on May 12, 2017 at 8:00PM at the Granville Arts Center, Brownlee Auditorium, Garland, TX.
Composers have always taken inspiration from nature, so it is no surprise that many have picked up their pens to give us musical depictions of the fascinating creatures with whom we share the planet. Throughout the 2016-17 Season, the talented musicians of the Garland Symphony Orchestra will offer our audience the most delightful and entertaining of these philharmonic fauna, from the smallest (Shostakovich's gadfly) to the largest (Saint-Saëns' elephants). Our musical zoo will include bears (Haydn and Bartók), horses (Auber), penguins (Scott), and even a cow (Milhaud). A few mythical animals will come to musical life as well, including Stravinsky's Firebird and Debussy's Faun. It's a symphonic safari not to be missed!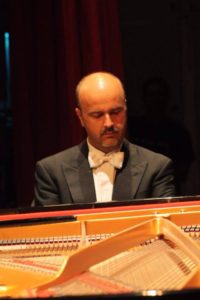 This concert will feature Antonio Di Cristofano, pianist. Antonio Di Cristofano completed his piano studies in 1986 at the Conservatory "L.Cherubini" in Florence, under the guidance of Antonio Bacchelli. He has subsequently studied with Maestro Damerini.
He has performed as a soloist with orchestras across the world, including the Jerusalem Symphony Orchestra, the University Orchestra of Houston, Orquesta Sinfónica del Estado de México, the Prague Symphony Orchestra, the Czech Philharmonic, and the Vienna Mozart Orchestra. He has worked with numerous esteemed conductors including: Gianpiero Taverna, Franz Anton Krager, Ovidiu Balan, Marcus Bosch, Mario Ancillotti, Marin Alsop, Nurhan Arman, Christian Schulz, M. Zanini, Charles Olivieri-Munroe, Leoš Svárovský, and Alexander Chernushenko.
He has performed in highly esteemed festivals and concert halls throughout Italy and the rest of the world, including: the "Verdi Theatre" (Florence), "Teatro Politeama" in Palermo, Smetana Hall and Dvořák Hall (Prague), The Frederic Chopin Society (Warsaw), Leeum Auditorium (Seoul), Gleen Gould Studio (Toronto), the Moore Opera House (Houston), the Newman Center (Denver).
---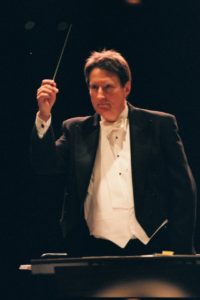 In 2006 he made his acclaimed debut at Carnegie Hall, and in 2007 performed in the Golden Hall at Musikverein (Vienna). He is often invited to judge international Piano Competitions across Europe and to teach at the Moscow Tchaikvosky Conservatory, the Summer Academy in Dubrovnik, Denver University, the SMC Academy in Seoul, the Thessaloniki Conservatoire and at many other universities across the United States.
Garland Symphony Orchestra credits its Music Director, Robert Carter Austin, for its continued outstanding and diverse orchestral programming. Maestro Austin's background encompasses over 30 years of professional music experience and includes degrees from MIT, Cambridge University, and Stanford University. Maestro Austin's musical experience includes conducting performances in countries including: Korea, Ukraine, Canada, Italy, Spain, China, France, Germany, Mexico, Bulgaria, Ecuador, Colombia, Philippines, Guatemala, Dominican Republic and the United States.
---
Season tickets as low as $61!  Single tickets are priced at $17.50, $27.50, and $37.50.  All are available by telephone (972.926.0611), fax (972.926.0811), or email (info@garlandsymphony.org).  Group discounts are available; please call the Garland Symphony Orchestra office for more information (972.926.0611).
All concerts begin at 8:00PM at the Granville Arts Center, Brownlee Auditorium
---
---
972.926-0611
For more information on the Garland Symphony Orchestra, please visit