Garland's Public Blackboard Gets Ink'd
Garland's Public Blackboard Gets Ink'd
About a month ago a blackboard seemed to suddenly appear on an exterior wall of the Garland Civic Theatre building.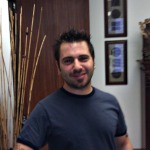 Lucas Cervellini had never worked in chalk before, and certainly never on such a large surface as that public blackboard on State and Fifth Streets in downtown Garland. The blackboard, which is approximately 6' x 18', wasn't being used, so we asked Lucas Cervellini if he would like to create a piece of art in chalk to give the board some visibility.
The professional artist took a look and jumped right in! Cervellini covered the huge board with a beautiful illustration of "Time." There was a colorful hourglass, clock, and setting sun covering the black surface, and people were stopping to chat with him as we worked.
Mayor Douglas Athas snapped a photo and posted it on his Facebook page, while others just stood and watched as chalk in the hands of the artist was transforming a black slate into a colorful mural that lit up the corner of State and Fifth.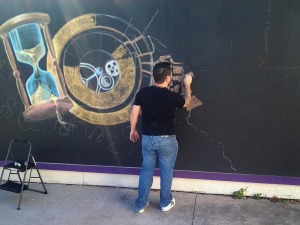 Lucas Cervellini, 31, was born and raised in Argentina, parents of Italian and Spanish descent. He first touched American soil when he deplaned at DFW Airport in July of 2008. He had married Martina Tovar of Garland, Texas, a GISD school teacher. The couple now has an 18 month old son and Lucas is gainfully employed as a tattoo artist.
Cervellini taught traditional illustration and comic book art back in Argentina, and works in diverse styles and media. He is looking for a place to teach art classes, and was hoping to be able to afford to rent a classroom in the Garland Richland College Campus. They are asking a little more than he feels he can afford, so he's still seeking space for an art class. He would prefer to conduct classes in downtown Garland, if possible.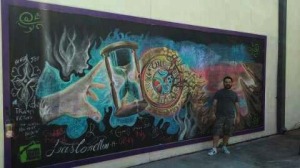 Tattoo art, Cervellini insists, is a very complex field and a very profitable one. There are artists who have made names for themselves and can charge fees of $200 per hour and up due to their superior artistry. There are also different tools of the trade, and we've promised to learn more about this lucrative field of body art. In the meantime, we're watching as Cervellini becomes the catalyst for an outdoor art revolution in Downtown Garland. A revolution that may have gotten its start on an outdoor blackboard created and maintained by the Garland Youth Council.