Mural, Mural on the Wall…
Mural, Mural on the Wall…
They're popping up all over Downtown Garland! The first appeared a couple of years ago at the rear of the Pet Adoption Center on Main Street, but only visible from State Street. It was brushed onto an old brick wall by artist Lucas Cervellini and commissioned by Robert A. Smith. The second appeared this spring, after Smith purchased a building and the vacant lot next door in the 500 block of Main Street. When the City needed a place to store a sculpture that had been commissioned by Neighborhood Vitality, he entered into an agreement to have it stored in the vacant lot, facing the street. The "Elements of Life" sculpture looked totally out of place in that setting, with its broken concrete paving and century old red brick walls on either side.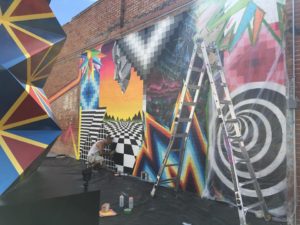 He said, "It was like pulling a tooth and having to deal with that unsightly space". Eventually the concrete was poured and the space was cleaned up. On a visit to Deep Ellum Smith became acquainted with the murals of Preston Pannek. The self taught artist was doing his painting on canvases at home, when he encountered a graffiti artist using aerosol cans of paint, covering large spaces on a brick surface, filling in all the crevices with bright colors. Pannek got some coaching in the use of spray paint and offered to do the first 10 murals for nothing, in order to get some practice in the use of this new medium. His next 10 murals were commissioned. Smith recognized the potential for dressing up the old brick walls at 506 Main Street in Downtown Garland.
A deal was struck and within days Pannek was spraying bright colors on the outer wall of the red brick building that now houses Frocksy, a vintage clothing store, also from Deep Ellum. In about a week the mural he has entitled, "Time Will Go On", was completed by Preston Pannek. The mural immediately became a photo-op for prom goers, visitors and graduation pictures. Benches and Adirondack chairs and benches were added to the space, along with a tiny outdoor library. Smith was so encouraged by the response to that mural, that he commissioned Panek to do three more. The next 3 murals adorn the metal doors of the welding shop at 316 Main Street, a building that was once a Humble Oil Station recently purchased by Robert A. Smith. There is an outer space, Jetsons theme on those doors.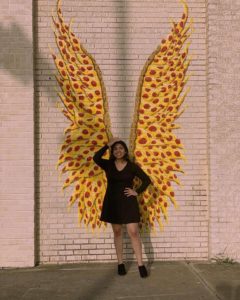 There had been only one outdoor mural in Downtown Garland since Cervellini finished those dogs on the backside of the Pet Adoption Center a couple of years ago. Now, suddenly within weeks, there were 5. The red brick wall opposite to the "Time Will Go On" mural, and to the left of the "Elements of Life" sculpture as you face it, was a wall just screaming for artwork. The Garland Cultural Arts Commission decided to use that wall for a community art project. Metal tracks were installed on that brick wall and panels were put in place to provide a smooth surface for artwork.
Mural #6 occurred in Downtown Garland on May 31, on the evening of the first of the Sounds of Summer concert series. Social media posts had been made to encourage folks to come and participate in this paint by numbers event. Earlier that day the canvas had been completely blank, but the next morning, Saturday, June 1, it was finished. It seemed to have just popped up overnight, and that was due to the artistic talent and organizational skills of Cullin Lassiter. The outline of the abstract artwork was projected onto the wall and numbers were put in the spaces between the lines. The numbers corresponded with the long line of paint cans and brushes lined up to be used by the folks of all ages and ethnicity that waited to paint. Approximately 150-200 people showed up to fill in the blanks. Cullin Lassiter is a 34 year old Garland resident who had completed a similar project for the COG on a retaining wall in the Gatewood neighborhood. Letecia McNatt, liaison for the downtown business community and city hall, was there to help facilitate the project. She was very impressed with Lassiter's sincere desire to assist every participant and inspire them to become involved in the arts. Lassiter's two children also participated by helping to clean paintbrushes. According to Letecia everyone behaved and colored inside the lines. In just a few hours all the painters had filled in all the spaces. Lassiter did some touching up and detailing, and the mural was finished. The third major work is now on display for all to enjoy in the once vacant lot that is now known as "506 Art".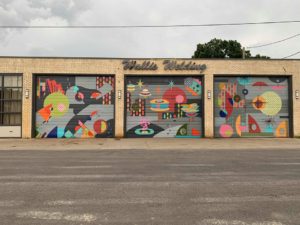 Preston Pannek returned to complete mural #7, which is located right next door to Mural #1. This one, which is the last one by Pannek to date, is a pair of butterfly wings designed to be interactive, providing a photo-op for those of us who enjoy posing for photos to remind us of the places we've been. In order to pose with this one, you'll have to go to 813 Main Street and drive to the parking lot in the rear. There, next to the Pet Adoption Center, is a metal door adorned with a beautiful set of wings, with "I love you" written above them. (This could very well become a busy spot when Valentine's Day rolls around.)
Smith tells us that Mural #8 will soon be installed on the building he owns at the corner of Ninth and State Street, which now houses a ceramics studio. The artwork for that one already exists on panels. Mural #9 is in discussion and will appear on the side of Roach Feed & Seed that faces the downtown square.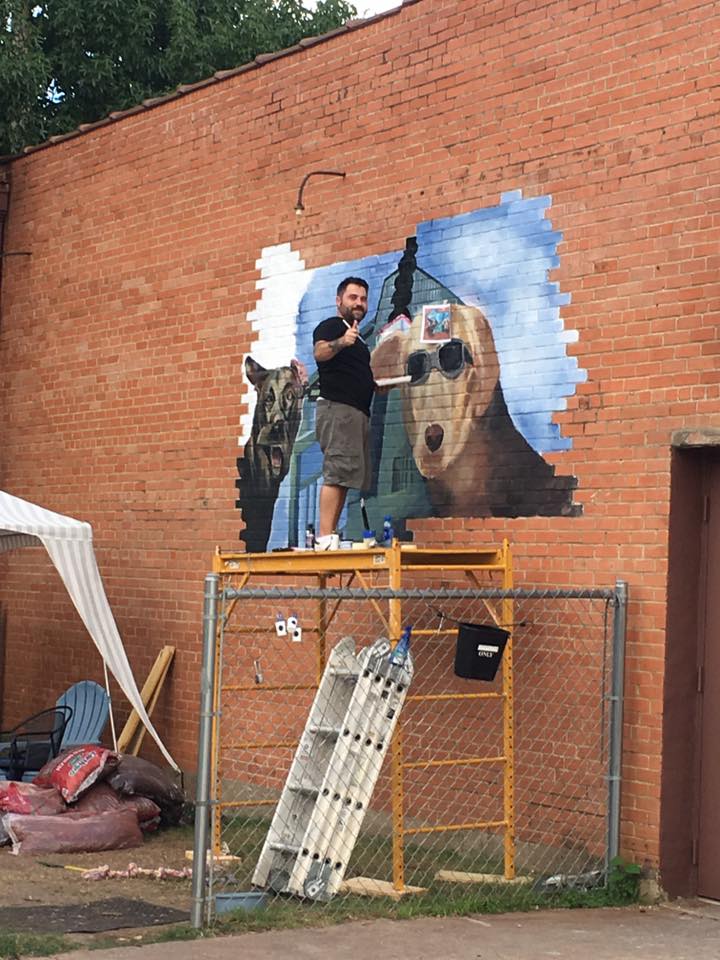 A new artist has now entered the outdoor scene in Downtown Garland known to us only as "Cody". Mural #10 has appeared at 601 Main St. As with mural #7, this is a pair of wings intended to attract folks for photo-ops. On the outside wall of a pizzeria, this set of wings are meant to entice and create an appetite for a delicious slice. The creamy cheese background and slices of pepperoni on the wings suggest one could be carried away to pizza heaven. This artwork was reportedly commissioned by Chris Ewing proprietor of the Mill House Pizzeria and Stage.
Mural #11 Cody strikes again! You really have to look for this one, as it's on a wall on the back of Intrinsic Smokehouse and Brewery this one is graffiti art and we've had a hard time taking a photo as vehicles have always been parked in front of it. We are assuming this one was commissioned by Cary Hodson.
Mr. Smith has obviously begun a trend towards art in Downtown Garland. Mr. Smith tells us he will have completed his mural projects with the completion of the piece at Roach Feed & Seed he's now on to other things, including sculptures. He tells us there is more to come and will surprise us with the additions he plans for 506 Art.