New Construction & Openings
New Construction & Openings
There has been a lot of construction recently in the Garland Rowlett area, and it's not all road construction. Nobody likes to see all the orange cones and markers all over the roads, but when buildings get facelifts and new places are put up, it certainly heightens the curiosity! Here's what we have to report so far:
Rowlett
Downtown Rowlett is undergoing a transformation due in great part to the opening of the DART commuter train station. According to current plans, the 1920's structure, that was originally the First Christian Church on Main Street which currently houses the Rowlett Chamber of Commerce, will be relocated. The library building will be demolished and its contents located nearby, in a temporary site yet to be determined. One portion of the planned residential options will be a cluster of small homes or cottages surrounding a community garden. The new development will include multi-level apartments, restaurants, and retail spaces. Construction is expected to be completed by late 2016.
Garland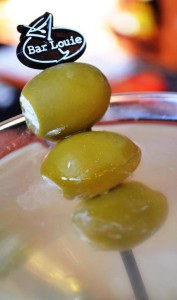 Firewheel has a new venue for adults to relax and refresh! Bar Louie Firewheel is next door to Razzoo's , open just a couple of months. This is a tasteful, uptown operation with a lounge featuring live music, an open air seating option and a very professional wait staff, although we were disappointed that our waitress didn't know what a kir was! We ordered a Louie Cosmo and an orange mule. Our tab was $20, for just 2 drinks, so we our return visits would take place during the Monday through Friday Happy Hour, when draft beer is $3.25 and wine is $4.25 from 4pm until 7 pm. Appetizers are ½ price during Happy Hour, with a menu of 16 items to choose from. Among the draft beers is Sam Adams and 19 others. Food menu features flatbreads, burgers, sandwiches, plates and salads.
Downtown Garland
Lots of change taking place on the corner of Main Street and Seventh in downtown Garland. The charming and talented Enily Low opened Resurrected Designs a few months ago. Her next door neighbor, Kurry King Spice Shop, will be closing at the end of August. Directly across the street Triple A Muffler has moved their operation to their Broadway location., which is now double its original size. The space that was once Vetoni's Restaurant is now The Taste at Poetry Place. The only corner of that intersection that hasn't changed is the one occupied by the Main Street Café. It looks like they're planning to stay, since they recently applied for a liquor license.
"Til death do us part…"
The stately Alexander Mansion on Avenue D has undergone a transformation. Built as a wedding venue, the lovely building sat vacant for a couple of years after its owner abandoned the place. The place was finally purchased several months ago and is now open and operating as a funeral home.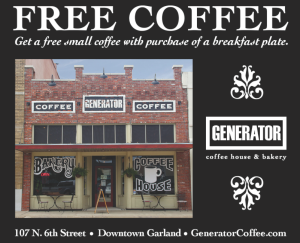 Meanwhile, brides are finding their way to Poetry Place, downtown Garland's new event center. Maybe there's something poetic in the fact that the mansion, built to celebrate the beginning of a journey into married life, is now occupied by a mortuary and the end of life itself. At least it won't be another Walmart!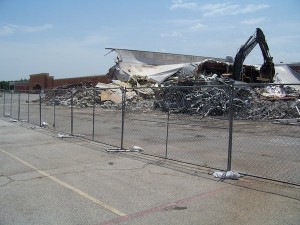 The old Target building at 1122 Centerville, near the 635 service road, is now in the process of being demolished. In its place a Winco super saver, big box grocery store will be constructed. The City of Garland has a lot r riding on the development of that site, and seem pleased with the Winco prospect. Our urban population is aging and downsizing, so this big box s grocery store will have to attract shoppers from outside the immediate area. Will a Whole Foods or Central Market ever come to Garland?
Panera Bread Company's building plans were approved by the COG City Council on July 15. This popular eatery will be located next to In & Out Burgers at Firewheel Town Center. There was a lot of discussion on placement of driveways and traffic at intersections, but when all was said and done, the building plan, as submitted, was unanimously approved by council. Site preparation will begin immediately, we were told.
Photos by Edd Holden