Phase 6 Blue Recycling Cart Update
Phase 6 Blue Recycling Cart Update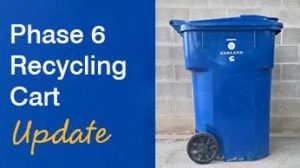 Get ready to roll, Garland! Delivery of blue recycling containers for Phase 6 of the City's single-stream recycling program will begin Jan. 23, 2018. The delivery schedule is as follows:
Phase 6 Cart Delivery Schedule
Blue Week: Jan. 23 – 26 (Service begins week of Jan. 30)
Yellow Week: Jan. 30 – Feb. 2 (Service begins week of Feb. 6)
This is the final phase of replacing red recycling bins with blue carts. During Phase 6, approximately 9,900 residents will be added to the program and will receive new blue recycling receptacles.
Residents who are currently participating in the recycling program using red bins may keep them, return them to the EWS Recycling Center, 1426 Commerce St.; or place them inside their new blue recycling carts. Once the blue carts are delivered, the red bins will no longer be serviced.
Recycling will continue to be collected on the same schedule, with pickup occurring once every other week based on zone. Trash pickup will continue to be collected once per week.
A cart-care packet will be placed on the lid of each cart, containing a recycling poster, service dates and an activities page for kids.
Financial Services Manager and Recycling Cart Project Manager Tyra Lewis said, "EWS is thrilled to provide all of our residents with blue recycling carts. Residents can place cardboard, mixed paper, aluminum, plastics, and glass bottles and jars in the cart together."