Popular Downtown Garland Bistro Sold
Popular Downtown Garland Bistro Sold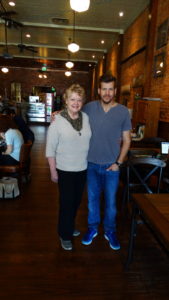 The Generator coffee House- turned-bistro, under the ownership of owner Nir Sela, has been sold.
After only 11 months, Sela, a recently divorced father of 2 young children, felt he needed to be able to spend more quality time with his 8 year old daughter and 6 year old son. Under his ownership, Sela turned a rather dowdy coffee shop into a upscale bistro. He increased the hours of business, obtained a license to serve beer and wine and initiated Sunday brunch. He invested money, time and a great deal of effort into taking the Generator to the next level.
Since arriving on the scene last April, Sela has become a very popular member of the Downtown Garland Business community. Though Generator is now under the management of new owners, Sela is not planning to leave the area. He has other business interests and plans to explore the opportunities in Downtown Garland. His many friends, ourselves included, are pleased to know Sela plans to continue to make his home in Garland.
Nancy Ghirla
Nghirla331@aol.com